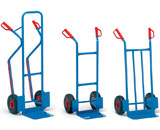 Good news for buyers of workplace trucks and trolleys – we are extending our guarantee on the Fetra range of trucks and trolleys from 5 to 10 years. This is valid from today.
Steve Miller, Managing Director of The Workplace Depot commented, "Extending the warranty highlights the excellent calibre and durability of our trucks and trolleys. For a product that gets robust and heavy usage in the workplace, quality is very important. Our trolleys are built to last and nothing says this more than a 10 year guarantee."
The reason The Workplace Depot are able to make such a strong guarantee is because Fetra's transport equipment is now manufactured at cutting-edge production facilities and with the most highly efficient equipment. As well as precision manufacturing, products are powder-coated and undergo extensive pre-treatment by shot blasting. This extends the life of the product as well as maintaining a permanent, attractive finish (see pictures below of the advance production facilities).
Beware cheap imitations!
There may be similar products from competitors priced below the trucks and trolleys sold on this website, but this is a false economy. With notoriously high wear and tear on transport equipment, you may find that replacing these every few years is an expensive option versus purchasing a high quality product that carries a 10 year guarantee.
Commenting on the quality of the Fetra products Workplace Depot Director Ken Miller said "We are proud of the fact that if any of the Fetra trucks or trolleys fail within the 9 years and 11 months, we will not just replace a part, but the whole trolley, Free of charge"
Look out for transport equipment with the new 10 year guarantee and free delivery in our trucks and trolleys section.
---
Posted in News, Product Updates