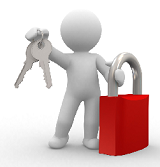 The most common way that a building has been accessed was either through a wooden, glass, (36% of incidents) metal, roller or shutter door (17% of incidents).
A survey was taken by a number of businesses and were asked in their current premises had experienced any crime in the last 12 months prior to the survey. 46% of the premises covered in the survey has experienced at least one of the main crime types.
It is so important to make sure that all of your security is in place and working. But it's not just about goods and stock being stolen, staff could feel uneasy when working in the building that has recently been burgled and it is the employers duty of care to make sure than all members of staff feel safe and secure when working.
Here at The Workplace Depot, we sell a whole range of security equipment for businesses to choose and buy from. We have everything from laptop security to security cages so read through this article and then take a look at our Security equipment.
Possessions
Your goods and stock may not be the only target for thieves. If you workplace has a room full of computers then these could be the objects that they want. With our range of laptop security, you will be sure that your computers and laptops will be secure. Computer security cables are an inexpensive solution against theft The multi-strand cable is resistant to cutting and there is a range of kits to choose from.
Or you can have the iMac security slippers and shoes. No we are not messing around, they are actually called security slippers and security shoes. They are a discreet high security clamp that secures everything, including the keyboard and mouse.
Preventing access
One aspect of security to think about is how to stop any thieves entering the premises – this is including the car park or complex. Sometimes setting the alarm isn't enough as some alarm systems can be easily fooled. Anti-climb spikes are a low-cost and effective deterrent against unwanted visitors. Every product in our wall spikes category can be fixed (it can be screwed, nailed or glued ) to fences, gates, pipes, walls and window sills. They may not look sharp, but they are so be care full when handling them.
For access to certain areas of the building that only a small number of people can access, you will need to install a door entry system. This way if someone does enter the building unauthorised, there is a door to the staff area locked by a door lock/access control kit.
The combination door locks are ideal for the larger complexes and buildings where a large number of staff need access to a certain area. Issuing keys or key fobs to an entire building of staff is expensive and unsafe as the keys/fobs can be lost easily or stolen. Just one simple code (that can be changed daily) can allow access to the building – secure, safe and simple!
If you work in a small/medium building with fewer employees, then a key fob sensor door access kit is the best solution. Supplied with a choice of release button, it is designed for 2000 users (additional key fobs can be bought from the manufacturer) and is a Proximity System model EPX10.
You could also invest in a key code door control kit. Instead of a key fob, you gain access by typing in a code. The kit includes a standard 'press to exit' button and a break glass unit. Just like the key fob door access kit, you can choose the type of release button.
Accessing and securing equipment
Securing expensive and valuable equipment is vital, just because of the pure cost of it all. There are many ways of securing this equipment without spending thousands more. If you need to keep documents, money or anything valuable in your workplace overnight, then investing in a safe will prevent these valuables from being stolen. Unless you have a flatbed trolley or ultimate strength then it may be quite hard to carry a full safe. We also sell fire resistant security safes for optimum security of anything inside the safe.
For anything that is kept outside or in a warehouse/storage unit, a security cage could be just the thing you need. Available in a range of sizes, colours and styles, you are sure to find the right security cage for your requirements. These totally weatherproof cages are designed to resist any vandal and criminal attack.
Of course if you have a large number of keys for all of these safes and security cages, you will need somewhere secure for members of staff to access. Key cabinets come in all different capacities and styles to suit the amount of the keys.
For more information on our Security equipment, please click the link or call our sales team on 0800 012 6777.
---
Posted in Security