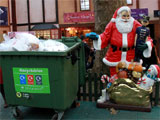 It's that time of year again, Christmas! The annual event that brings everyone together, family, friends, work colleagues, includes events such as stuffing ourselves silly with Christmas treats, chocolate, party snacks and singing and dancing to cheesy classics such as Mistletoe and Wine by Sir Cliff Richard and John Lennon's Happy Christmas (War is Over). But does anyone think about the environmental implications Christmas has on the world?
Facts about Christmas and the environment
According to The Mirror online in 2009, 200,000 trees are felled to make the 1.7 billion Christmas cards sent in the UK and 750,000 letters are sent to Santa by children in the UK each year. In all honesty, how many people put their cards in recycling bins once January 6th comes around? In the 21st century, and all the technology we have today, why don't children and citizens of the United Kingdom just email, Facebook, Tweet or just text/ring people to say Merry Christmas? Children are swamped by technology so surely they can just email Santa about what they want for Christmas at Santaclaus@gmail.com? Or even tweet him, @Officialsanta? And as for wrapping paper, 83 square km of it will end up in UK rubbish bins (which is enough to wrap up the island of Guernsey!) Instead why don't people just put them in gift bags and reuse them over and over again?! Saves money, trees and we are recycling!
After all the drinking and eating we do during the festive season, 13,350 tons of glass is thrown away in the UK, 4,200 tonnes of CO2 could be save if we recycled all of the glass thrown away.
Also, we spend £1.6 billion on food and drink at Christmas in the UK and £275 million of it is thrown away, that is 230,000 tons of food! So this is why we put on a 'bit' of weight over Christmas.
Safety In the Festive Season
Christmas lights are peoples bug bear when it comes to decorations. Having to untangle the wires year after year because we couldn't be bothered to put them back in a more organised way and even if we did, there is still a chance that they would be tangled. One hazard that some people don't consider is the amount of wires and cables trailing all around the house, most of the time because the lights don't reach the plug without an extension lead, which can lead to us tripping over the wires/cables. Two ways we can help prevent this. One, put the tree or lights close enough to a plug so we don't have to use an extension cable. Two use a cable protector or a cable tidy to stop us tripping and falling to the floor and hurting ourselves.
Some of us may have old Christmas lights that were passed down from our parents, really we ought to consider buying new lights as nowadays they are much safer as they meet higher safety standards, which means they are less likely to blow up and burn the tree down, or even our houses. When we are putting up decorations either at home or in the office, we are tempted to use the quickest way of doing this by using a swivel chair or something unstable to stand on, the safest bet is to use a stepladder to climb up on and hang those decorations just to keep with tradition.
---
Posted in News, Think Green, Recycling