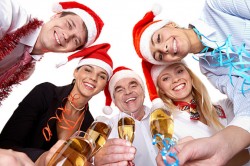 Last week in the office, everybody was shocked, and actually a little bit horrified, to find our very first Christmas card of the year waiting for us on the door mat. Our first Christmas card arrived in October - late October, but it was October nonetheless!
Christmas is a time for festivity and good will, but when you are reminded by a Christmas card that the big day is only 53 days away (yes really!), it suddenly becomes something you start to dread! The first card arriving signifies the countdown to Christmas and is a nudge to get those all-important preparations started. Is October too early for a Christmas card?
If you are starting to think about Christmas, then you may be looking to host a Christmas party or event for your business and employees or even just for your family. Hosting events like this needs lots of organisation and preparation to make sure that everything you require is in order. You may need to book a venue, then there's the food and drink, then you have to consider the decorations… the list goes on. It's a big deal and a lot to sort out!
If you are hosting a "posh do" for your Christmas party, then you may consider giving the event a Hollywood A-List feeling by providing a red carpet entrance lined with some executive posts and red rope, adding some extra sophistication and "je ne sais quoi" to your party. The executive and classic posts come in both a chrome and brass finish, which works excellently to add a little something extra to your annual Christmas bash. There is a variety of coloured rope available, which will make any event be of the highest calibre. Black, white and blue ropes are available but we think that the red rope gives an extra special feel to an occasion and location.
Or perhaps if you are hosting a large event which requires a lot of technical engineering and cable coverage, you will need to take steps to ensure that the electrical cables used are kept out of sight, as well as keeping your guests safe from tripping over them. Cable protectors can be installed inside and out to protect people from trip hazards caused by loose cabling. Live music groups, DJs and special lighting may all need extra wires to work properly, so at Christmas parties, by having cable protectors in place, it will reduce the risk of accidents for your guests and will also protect your cables. Cables can be damaged if they are not sufficiently covered up. This is especially the case at corporate parties where people may be having a drink which, as the merriment commences, could spill on the electrical cables.
So, as our lonely Christmas card suggests, the festive season is fast approaching and it is time to start thinking about organising your special Christmas events. You can make your events classy this year by decking out the venue with executive posts and rope, and you can guarantee the wellbeing of your guests by covering up loose cables in and around your venue with cable protectors.
---