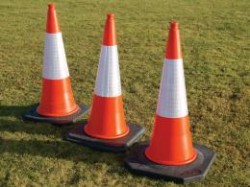 This week saw the start of the annual Frieze Art Fair in London, where artists and art lovers from across the world come to witness and potentially purchase some of the artwork on show.
The Frieze Art Fair takes places every October in Regent's Park in London and is hosted by the two publishers of the Frieze contemporary art magazine. The fair is an exhibition of all sorts of contemporary art that attracts nearly 70,000 visitors each year. The main purpose of the event is to sell work to the people who come along, but it is becoming increasingly popular as an art exhibition with more and more people coming to simply spectate and view the works on display.
One of the artists whose work was on show this year was Robert Pruitt. Pruitt is a visual artist from New York. His work at this year's show was something which caught our MD's attention. His art work was centred on traffic cones. Now, you might think "what's interesting about traffic cones?" Well, Pruitt has personified a number of individual cones by giving them faces, complete with hair and accessories. The cones are given glasses and one even has hair and earrings. The funny and endearing expressions on these cones "faces" make them amusing and likeable - I challenge you not to smirk when you look at this safety cone exhibition.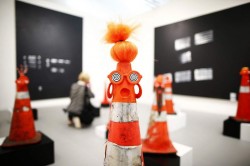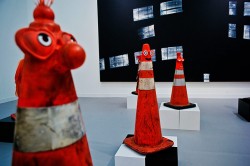 As well as drawing faces and expressions on traffic cones, there many other things that you can use traffic cone for. In the office we have compiled a list of things to do with a traffic cone, here are our top ten:
1. The first one, and the most seasonal, is placing the cone on your head to create a witches hat. This is great for fancy dress parties and for Halloween parties. Also, for male readers, you can pretend to be a wizard and be like Dumbledore or Gandalf the Grey.
2. Traffic cones, especially smaller safety cones, can be used by sportsmen to practise running around for agility exercises. People will be familiar with the image of footballers dribbling around cones before a match or in training. So if you want to perfect your skill with a football at your feet, grab a number of safety cones and get dribbling.
3. If you ever need to make yourself heard, or if you need to make a speech or important announcement, a traffic cone is a cheap and effective form of PA system. Putting the pointed, narrow end of the cone towards your mouth and speaking into it, it will create a quite powerful megaphone that can project your voice for all to hear.
4. Another use of a cone is that it makes a great funnel. Simply by turning a cone upside down you are able to funnel large quantities of materials into smaller receptacles such as bowls or dishes.
5. Similar to point one, another piece of headwear that you can create from a simple traffic cone is a Dunce's hat. This time, draw a large capital D onto the cone before placing it onto your head and there you have your very own Dunce's hat, perfect for those moments of questionable intelligence.
6. If you turn the traffic cone upside down and allow it to stand on its narrow end, then the cone can function as a vase for flowers. It is recommended that you do not fill the vase with water due to the whole in the top of the cone. But, filling it with flowers will provide a beautiful vase for your bouquet.
7. Investing in a traffic cone can contribute to your home furnishings. It is one of the many staple items in a student household. By placing a light bulb into the top of the traffic cone will create an industrial, rave-like, cheap light fitting which will be unique to your home.
8. Many people fill their gardens with garden gnomes, but what about garden cones? Using smaller cones you can fit them in and around your garden to decorate the area. They are much more fun than gnomes. Whilst they do not have the cheeky faces or pointy hats, if scattered liberally, they will create a fun obstacle course in your very own front garden.
9. If you are at the beach, and you realise that you have left your bucket and spade at home, never fear! You can use a traffic cone to make a large, (or small, depending on the size of the cone) pointed sand castle. The point provides a very good focal point in which you can stick a flag. So given that, it is actually better than a castle, some may say.
10. Finally, number ten is that you can section off traffic with them!
Traffic cones come in different sizes and have, as we have proven, many different uses. The larger types of cone are road cones. These are ideal for use in heavy traffic and sectioning off highways when there are road works or traffic collisions. These cones are also the right size to use on a training pitch or for cycling proficiency tests as they are small enough to move around but still prove to be enough of an obstacle.
If you want to do something interesting with cones, whether it is reserving a parking space or making a face on it and creating your own art exhibition, then take a look at our full range of traffic cones and accessories here.
---
Posted in Amusing