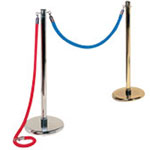 Whether it's a birthday, engagement, anniversary or just a general special occasion, certain industries can constantly feel the effects of being extremely busy all year round.
Restaurants, bars, clubs and pubs in particular will probably be packed (even more than usual) this upcoming weekend as dozens of couples walk through the doors hoping for a special evening filled with delicious food and drinks on Valentine's Day!
Having said this, it is surely beneficial to prepare yourselves and your staff in the best way possible, certifying that your areas used for preparation are fully stocked and organised and your customers are aware of all the available facilities around them.
Practical Products
Certain ways you can make sure you are on top of things during busy times within your workplace includes having useful storage space. Storing products that are frequently used in easy to reach places, for example at the front of a shelf, can make life a lot easier for your staff when they are in a rush.
Not only this, shelving is an extremely effective use of space, whilst allowing you to stack and store multiple products for ease of use. Industrial kitchen shelving in particular can be made from aluminium, stainless steel or polypropylene, depending upon the type of product you are wanting to store and which is the most suitable for you and your industry. Through implementing shelving systems, this allows you to have many products in one place without taking up a lot of room in the working environment so as not to cause hazardous conditions.
In relation to storing a lot of products, ideally, you might need a little help bringing these products into your establishment. Sack trucks are a cost effective but helpful way of ensuring you can bring in as much stock as possible – without putting your back out in the process! They have gripped handles and durables wheels so they can be manoeuvred wherever you would like, and last for a great deal of time.
More practical products that you can put into place, this time for the benefit of your customers includes: post and rope - in particular for special events, this can act as a divider between certain parties; for example a party of people may have hired out a specific section of your bar/restaurant for a special occasion and this will help to make it feel more privatised for them.
To cater for busier than usual times, it is always useful to have extra furniture available for temporary use. Folding tables are ideal if you offer your services to more customers than normal, as they can be stored away without taking up much space in the meantime. Once you have decorated them with flowers and love heart balloons this Valentine's Day, no one will know the difference!
To make sure the outside of your property looks just as impressive as the inside, ensure you have litter bins and smoking bins around for your customers to prevent unnecessary mess. You could also invest in smoking shelters; these are useful all year round (particularly in the UK where it rains rather a lot!) These might be a factor as to why your business is favourable to certain customers.
Safety Products
Once you feel that the scene is set inside and outside of your institution, it is extremely important to make sure that in all working environments, including: public houses, restaurants, bars and clubs that you have the appropriate fire safety equipment in place, as well as first aid kits, just to be prepared for any potential accidents; reassuring your customers that you have their best interests at heart.
Let us know if you are busy and booked up these next few weeks in February, and what kind of establishment you are working in on any of our social media pages.
---
Posted in News, Storage, Product Updates, Health and Safety