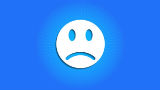 We're just over midway through January now, New Year greetings are officially over and normal life appears to have been fully resumed. However, today, Monday 19th January has officially been dubbed 'Blue Monday'.
Apparently, today is the day when the entire population feel a bit miserable, the weather's dreary, New Year's Resolutions become undone, and the infamous January blues have officially set in after all the hype of the festivities.
It is also probably the week before most people's paydays since Christmas and it has been a long month after paying for all those Christmas presents.
Blue Monday was supposedly first discovered by Dr Cliff Arnall – who reinforces that all of these factors contribute simultaneously to people around the world.
The day has become recognised globally, with #bluemonday trending worldwide on Twitter this morning, along with websites such as The Telegraph getting involved by streaming live views from Crystal Bay in Thailand in order to make those of us in the office feel a little better about ourselves, although I'm sure I'm not the only one who is actually made to feel even worse by it!
As a result of this day being recognised internationally however, brands are jumping at the chance to act upon the general public by offering deals and money off products in order to cheer up their consumers! Unfortunately, one of the main reasons why most of us are blue this Monday is in relation to our bank accounts, so this might not be the greatest marketing ploy.
Feeling Blue?
We would like to know if you are feeling the effects of Blue Monday today, or are you far from this feeling? Perhaps you have booked a holiday you are looking forward to, or maybe you are fully motivated at work? Please let us know on any of our social media accounts, keeping the hashtag #bluemonday going!
In the meantime, why not browse The Workplace Depot's range of 'blue' products… You might find something that makes you feel the opposite!
---
Posted in News, Amusing, In the Community