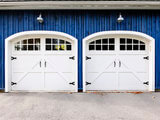 The modern society encourages us to push our own boundaries and write our success story from scratch, even when we don't actually feel (financially) prepared to face this challenge. The idealized version of the American Dream gives us hope and fuels our greatest expectations and some big companies that started in a garage do too!
Therefore, we boost our own motivation and perseverance through the power of the positive examples that are virtually everywhere.  Google, Disney, HP, Apple and Amazon are only a few of the most well-known, gigantic companies that started small, in even smaller, obscure garages. These prosperous multibillion dollar corporations owe their popularity and prosperity to their visionary founders who relied on their skills, talent and unique approach to doing business in their industry to take their garage business to a whole new level.
#1 Amazon.com - Founded in 1994 by Jeff Bezos and completely run out of his garage in Washington. Initially regarded as an online bookstore. Made the first sale in July 1995. Today Amazon is the biggest online retailer providing everything for everyone from winter tyres to hot chocolate.
#2 Apple.com - An American Dream started in California in the early 1976 by the 2 Steves. Jobs and Wozniak. Steve Job's garage sheltered what later became the most valuable tech company in the world.
#3 Disney.com - The American Dream! 1923 was the year when Disney got it's start in the garage of Walt Disney's uncle. The 2 story characters - Walt and Roy - started to film the Alice Comedies which are now part of the Alice's Wonderland film, in the one car garage. Today Disney is the biggest media company in the world, though mostly known for its beautiful stories.
#4 Google.com - Who said graduates don't make good business plans? Larry Page and Sergey Brin founded Google in Susan Wojcicki's garage. What later became world's most used search engine, was initially just a dissertation topic in 1998.
#5 Hewlett-Packard.com - Founded in a garage in Palo Alto in 1939 by Bill Hewlett and Dave Packard with an initial investment of $538.00. First sale made was an audio oscillator and one of the first customers was Walt Disney himself. Today HP is one of the largest companies in the world and also the birthplace of Sillicon Valley.
#6 Yankee Candle.com - A dream of a company. Started in 1969 by a 16 year old boy who made his very first candle out of melted crayons as a gift for his mother. All took place in his father's garage of course, because he didn't want to spoil the surprise! Today Yankee Candles is the largest manufacturer of scented candles.
So What Does a Small Garage Business Actually Require to Get B.I.G?
Nonetheless, running an insanely successful company couldn't possibly be that simple. In any case, you probably need more than a specialized workforce, a great leader and a garage to pursue and reach your bold business goals. While it's true that "The First Disney Studio" was set up in a single-car garage located only 45 minutes away from the Anaheim-based Disney Park, you may require a little more than an empty building designed for housing your vehicles to turn your small enterprise into one of the most remunerative media conglomerations worldwide, just like Roy and his brother Walt did. Achieving business success may just be a little bit more complicated these days, even though young entrepreneurs have access to a great variety of free and almost free tools and services created to support their ascension. This brings us to the next question: what do modern businessmen actually need to lift their startups off the ground and convert their ideas into financially rewarding projects?
Space. First of all, you should consider the fact that the whole idea of starting a business in a garage is grossly misinterpreted. Owning and maintaining a garage still represents a luxury in many parts of the globe. Moreover, most of the people who experiment and even start production on a small scale in their garages can also profit from a generous collection of amenities comprised by their house.
Safety Measures. Secondly, any entrepreneur who is developing, implementing or testing a new concept should be fully aware of the fact that virtually any neighborhood can be linked to at least two major threats: burglary attempts and the actions of rivals who are constantly spying on their competitors' every move to steal the big idea behind their inventions.
Time and Knowledge. Very few people seem to take into consideration the fact that any major project involving an innovative concept requires a significant amount of time, dedication and concentration. This means that an entrepreneur who is about to discover, manufacture or introduce a new product could spend anywhere from 8 to 20 hours a day working on his prototype; whereas lack of time for new projects is a major impediment that most adults with kids and one or multiple jobs are extremely familiar with. At the same time, proper education plays an important part in this complex equation. In order to become a pioneer on a certain niche, you have to have a certain knowledge database and acquire certain skills that could fuel your competitiveness.
Office Furniture, Equipment and Tools. While some of the most basic tools that entrepreneurs could require to support their growth are available online, affordable, premium office equipment and furniture tailored to a more modest workspace can be difficult to come by. However, finding the best pieces for your garage is not a mission impossible. For instance, the DIY shelving solution sold by The Workplace Depot is a fantastic option that you will love at a first glance, due to its versatility, small price tag and modern, multifaceted design.
An excellent choice for garage storage, the discount shelving comes in different sizes and with adjustable shelves and 16 mm board decks. These products are easy to install; plus its stability and strength have been tested according to current FEM recommendations.
The workshop benches introduced by The Workplace Depot are other bestselling items representing a great match for any kind of garage space. Their 300 kg capacity makes them perfect for industrial use; at the same time, their timeless design based on orange beams and blue uprights adds a touch of color to any working environment. Due to their boltless assembly and practical design, these items are exceptional choices for budget-conscious businessmen who seek the best mix of quality and affordability. All the top-rated office products that you need to take your garage business a step up are now available online. Order yours today and transform your workplace on a budget.
---
Posted in Office