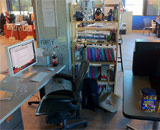 The environment where you work has a huge impact on your work productivity. Spending all day every day in the office can make you lose concentration, especially if the place is not arranged in a way to make you feel comfortable. Therefore, it's important to keep your office organised in order to be able to focus on the important things and actually get things done. There are several things you can do to make your office a more lovely place that gets you in the right mood to work effectively. Here are our tips on how to improve the environment at your place of work and organise things so that you don't get distracted by unimportant factors.
De-Clutter Your Desk
Perhaps the very first thing you should start with when trying to organise your office is to de-clutter your desk. A desk can be quite a distraction, having in mind all of the office tools and piles of paper that are covering most of the surface of your desk, making the whole office look like chaos. According to a survey led by the 'Wall Street Journal', an average office employee spends about six weeks per year on searching for tools or documents that are messily lying all over the desk. Imagine what a long time it is, which can be otherwise invested in something much more pleasant. That's why it's important to tidy up your desk and organise it in a way that will make it easy for you to always find anything you need. Start with sorting documents, which you can put in order in named maps. Buy a holder for your pens and all kinds of office tools. Keep the holder near you on the desk so that you can easily access your tools when you need them. And you probably need them multiple times a day. The next step is to organise your drawers, so that each of them contains similar items, such as office supplies in one drawer, notepads in another one and so on.
Throw away the mess
The more things you keep in your office, the easier it is for the place to get messy fast. Look around and decide which things you don't need and won't really use and throw them away. If there are things you haven't used for months, the chance you won't ever use them is huge. It's useless for many items to just take space in your office and make it look messy.
Establish Special Areas
Another good idea to help you organise your office is to decide on different zones in your office that will have different purposes. The main area will be your workspace, which is your desk. You will probably have an area for supplies, where you have shelves, drawers and closet to keep your office supplies and personal possessions. There might also be a relax zone, where you have a couch and a coffee table. Establish certain areas and you'll be able to put things back in order much more easily.
Clear Up Your E-Mail
Another way to organise your workplace is to clear up your e-mail. The less your inbox is full of unimportant mails, the more you will be able to concentrate on the important work that has to be done.
Author Bio: July Minor is passionate blogger who loves to write about organising and cleaning. She currently runs deluxe tenancy cleaning and she is really happy with that because she learns new things every day.
---
Posted in Office, Expert Commentary