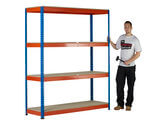 In case you though we've forgotten all about our A Day in the Life of Series, you would be relieved to know we haven't! After last week's A day in the life of... a Finance Manager, today Ben has granted us access into his daily work routine.
Morning
@8.30am
First through the door, our warehouse team opens up the premises so that the company can open for business! My first priority is to designate the orders which have been placed late the day before and overnight, so that these can be prioritised before the days proceedings begin. Completing these tasks first sets us up for what ever challenges the day may bring.
@9.30am
At 9.30 we expect to have caught up with any carried over tasks. At this point I will set my team up to begin picking the days picking orders. As we have two warehouses the logistics can become an issue. Our second location mainly holds our SUMO shelving range, we try to keep specific products in each warehouse so that we can separate any orders that need to be fulfilled from warehouse 2 for later in the day. Once the team is good to go, my focus is on checking emails and responding to any messages that have been taken for me. These can be anything from a supplier running out of a specific stock line, to a courier losing a parcel on route to our customer. Sometimes these messages can have a huge effect on the shape of my day.
@11.00am
We now have enough orders picked for me to pull away a member of the team to begin the booking out process. It is important that we have all of our parcels booked out and ready to go in order to keep our courier schedule efficient. While this is happening I will review our stock levels, this is so that I can see what needs to be ordered and what I should expect to arrive.
Afternoon
@2.00pm
At roughly 2pm I will split my team into two smaller teams, so that we can tackle any orders which need fulfilling from our second warehouse. 2-3pm is a huge peak for us, this is where most of our traffic hits the warehouse. At The Workplace Depot, we offer a FREE next day service on all of our stocked products when ordered before 3PM. Yep, all of them! That's means if somebody places an order for 20 modular trucks at 14:59, you bet we will have it picked, packed and ready to despatch for 4:30 when our couriers arrive!
@4.30pm
Our couriers usually roll up anywhere between 4 and 5pm. On average we deal with 4 different services per day, due to the varying shapes and sizes of the products we sell. While my team help to load the pallets and parcels from our picking trolleys onto the courier vehicles, I will use any spare time to review our invoices. A huge task for me is to review the courier invoices. Not only is it very important that we're being billed appropriately, but also that we know exactly how much each item is costing us to deliver each time - with over 450 parcels leaving the warehouse per week it is very easy to lose track of this.
Other invoices I will frequently review are our packaging aids. It is vital to keep an eye on this spending, so that we can budget accurately throughout the year.
Evening
@6.00pm
By 6PM I will have double checked that no parcels were missed off from our couriers and that the warehouse team have left their work stations neat, tidy and ready for the day ahead tomorrow. The tidy up job can be quite a big process at the end of the day, with a huge range of different tools and packaging to put away. Each work station has a variety of packaging aids, from tape dispensers and polypropylene strapping kits to heated shrink wrap guns and bubble wrap!
We're first in and last out at The Workplace Depot, so it's a quick sweep of the premises before we lock everything up for the night.
@8.30pm
And finally it's me time! To be honest, there is no strict routine to life outside of work. I go with the flow and listen to my body. Sometimes after a gruelling delivery at 6am in the morning, I'm tucked up in bed at 8:30! Other times it's 9pm and I'm still at the gym or playing football with my local team. What ever is needed to put the days stresses behind me and be ready for tomorrow full of confidence and determination!
---
Posted in News