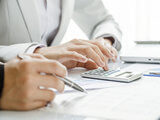 We hope you all had a wonderful Christmas this year and as some of you might be already trying to get back on track, we thought a new blog post on our A Day in the Life of would be a good idea!
So far we've covered A Day in the Life of... an Operations Manager. This week we are getting on with Steve, our Finance Manager. He agreed to share with us some of his daily work routine.
Morning
@8.45am ....I arrive at work give or take 5  minutes -, after hopefully negotiating the early morning madness that is Nottingham rush hour. Usually channel hopping between local Radio station to find out the news and sport. Then settle on some music as I near to work...and always very high volume
@9.30am.... look at early morning e-mails , especially China and reply to questions or plan future deliveries. Answer any further e-mails and then prioritise reports and prepare for the days meetings
@11.00am...mainly in meetings or report preparation, or monthly analysis - payments, debtors etc
Afternoon
@13.00pm....Lunch time . Its the usual internet surfing the sports page and social media
@2.00pm.......margin and statistical analysis - and a cup of tea or coffee around 3pm
@4.30pm.....prepare for the next days meetings - complete daily tasks , including Sales totals and cash forecasts
Evening
@6.15pm... Set off around 5-15 to 5-30 get home in around one hour - listen to radio and make calls to friends and relatives whilst driving home (always on handsfree ), get home greeted by my dogs Benji and Holly and most days their is one of my Granddaughter s as at our house. Then a short run and my treadmill , shower, tea/dinner and relax.
@8.30pm... TV for the rest of the night. Sleep
---
Posted in Workplace Commentary