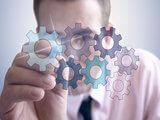 This week we are offering you an insight into what the life of an Operations Manager might be like, in an industry where effective operations are paramount. We've asked Michelle, our Operations Manager to outline what her day to day tasks might include. Michelle has been with us for not less than 16 years this December!
A Day in the Life of ... an Operations Manger
Morning
@8.45am .... Arrive, unless on the early shift in which case I would have already been here for an hour. First thing I do is log into to all the platforms I need for the day ahead so our order processing system, our website, and various emails Once these are logged in and ready all emails are checked and replied to
@9.30am...Have a look at my contact management system to see who I need to speak to and why, this could be a call to check a customers order has been delivered ok, to chase a supplier, to discuss a quotation or just a general call to see how they are doing
@11.00am...Deal with any other emails that have arrived. Also throughout the day I could have requests to set up a new product codes within our order processing system, to advise a fellow colleague on products or procedures. I continually liaise with other team members to ensure they have the relevant information to assist with the smooth running of their role
I deal with most of the export enquiries so obtaining packed weights and dimensions, shipping costs, harmonisation codes and issuing quotations
Afternoon
@13.00pm... Check the sales figures to see how we are doing against our targets, answer calls on both customer service and sales as lunch coverage required.
@2.00pm...Lunch break til 3pm then back to catch up on any emails or requests from colleagues, return any calls. Deal with incoming calls. Occasionally visit our other warehouse location
@4.30pm...Check reports on incoming and outgoing calls, accounts that have been set up throughout the day, quotations that have been issued
Evening
@6.15pm... If finishing at the standard time of 5.15 I would arrive home about this time to prepare evening meal. We have a rota system in the office and take it in turns to man the phones until 6pm so would not arrive home until 6.45pm if its my turn to stay late
@8.30pm...watch a little tv or make craft projects that friends have requested, maybe read a little
My working days are usually very varied as I don't know whether there will be an issue with the order processing system, a colleague that may need training, a meeting to attend or a huge tender to work on so my time cannot be planned as such, I just take it as it comes.
---
Posted in Office, Workplace Commentary