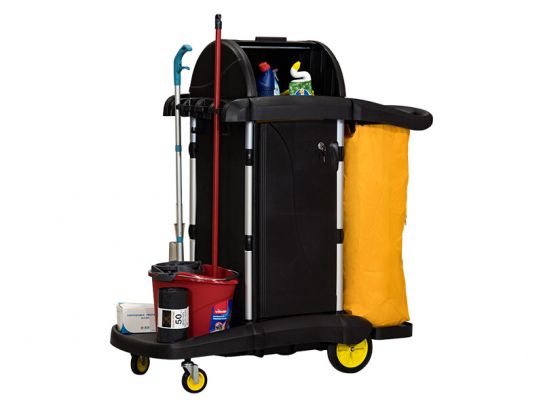 from
Cleaning Trolleys
For janitorial work or general upkeep, for deep cleaning or daily spruces, a cleaning trolley can make life a lot easier. Instead of having to rummage through a store cupboard every time you need a different cleaning solution, you can simply tote them with you so the right supplies are right where you need them. This includes dust rags, sponges, mops, brooms, and other cleaning tools. A cleaning trolley is great to have on hand for janitorial staff in your office or business, or perfect for the homeowner who wants to make cleaning as efficient as possible.
Caddies and Buckets/Mops
A bucket and mop unit or caddy can make washing floors a lot easier. The Hi-Back Bucket and Mop Unit is a standard yet reliable model with a carrying handle, push handle, and durable construction. The Mop Caddy is better for larger areas. It handily keeps clean and dirty water separate, and comes with an attached storage caddy.
Carts and Trolleys
The Mobile Janitorial Cart is a cleaning workstation with lots of storage and compartments to store all your supplies. It includes a waste unit for trash and will help keep cleaning quick and efficient. Another option, the Rubbermaid Microfibre Cleaning Cart is made of heavy duty materials and is meant for helping to clean sensitive environments with hygiene in mind. It has colour-coded buckets, space for 2 mops, and separate spots for dirty and clean water.
Additional Benefits
The Workplace Depot's cleaning trolleys, carts, and caddies come with standard one year warranties that include both parts and labour. Free delivery is additionally offered for all products. Shop with us and we'll match any price.