Gas Bottle Cage
£206.99
Ex. VAT
£248.39
Inc. VAT
£248.39
Inc. VAT
£206.99
Ex. VAT
FREE DELIVERY
Free Delivery -
Next Working Day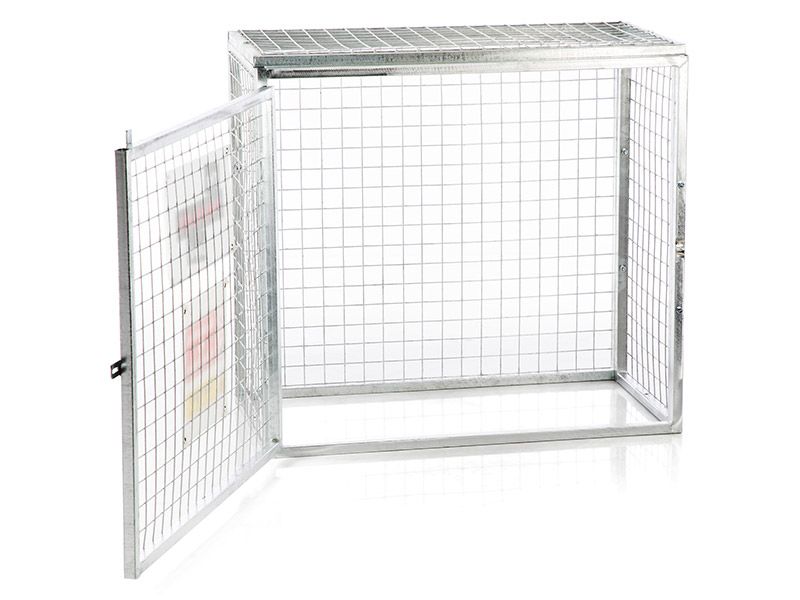 View All Gas Cylinder Storage
Galvanised Safety, Modular Design
Smart Storage Solution: The Gas Bottle Cage offers a versatile and secure way to store up to 3 x 19kg gas bottles, ideal for various applications.
Adaptable Capacity: This cage is designed to store up to 3 x 19kg gas bottles, catering to diverse user needs with its flexible storage options.
Modular Convenience: Featuring a modular design, this cage can be easily assembled and dismantled, providing a hassle-free setup and compact storage solution.
Durable Build Quality: Constructed from high-strength galvanised steel, including a 30mm box section and 3mm wire mesh, it ensures lasting durability.
Enhanced Security: This cage is equipped with a padlock point and hinge doors, offering superior protection and restricting unauthorised access effectively.
All-Weather Resilience: Its galvanised frame is specially designed to withstand diverse weather conditions, offering dependable protection year-round.
Expandable Storage: With the ability to join additional cages, this product offers expandable storage solutions, perfect for growing storage needs.
Regulation Compliant: This cage includes hazard signs, ensuring compliance with gas storage regulations and enhancing safety standards.
Compact Dimensions: Measuring 900(H) x 1000(W) x 500(D) mm, it offers a space-efficient design without compromising on capacity or security.

Secure, Versatile, and Durable
Introducing the Gas Bottle Cage, the epitome of secure and adaptable gas storage solutions. Designed to meet the diverse needs of its users, this cage is perfect for storing up to 3 x 19kg gas bottles, making it an ideal choice for both commercial and domestic use. Its robust construction and thoughtful design reflect a deep understanding of the challenges faced in gas cylinder storage.
Not only does the Gas Bottle Cage offer unparalleled security with its lockable design and durable galvanised steel construction, but it also boasts a modular design for easy assembly and efficient storage. Its weather-resistant frame ensures that your gas cylinders are protected in all conditions, providing peace of mind and reliability. This cage is not just a storage solution; it's an investment in safety and convenience.
Flexibility at Its Finest
Experience unparalleled flexibility with the Gas Bottle Cage's adaptable storage capacity. Designed to securely hold up to 3 x 19kg gas bottles, this feature caters to a variety of user requirements, from commercial settings to personal use. Its versatility is the cornerstone of its design, ensuring that no matter your storage needs, the Gas Bottle Cage adapts to suit them perfectly.
This adaptable storage capacity is not just about holding different quantities; it's about providing solutions that evolve with your changing needs. Whether you're storing gas for a small business, a large industrial facility, or home use, this cage accommodates your requirements with ease. It's an investment that grows with you, adapting effortlessly to meet the demands of your evolving storage needs.


Simplicity Meets Innovation
Discover the convenience of the Gas Bottle Cage's modular design, a feature that redefines ease of use in storage solutions. This innovative approach allows for quick and simple assembly and dismantling, making it perfect for those who value efficiency and time-saving. The flat panel design ensures that setup is not only straightforward but also can be done without requiring specialised tools or expertise.
Beyond the ease of assembly, this modular design offers exceptional flexibility in storage. When not in use, the cage can be dismantled and stored away compactly, saving valuable space. This feature is particularly beneficial for users with limited space or those who require temporary storage solutions.

Overall Dimensions
| | | |
| --- | --- | --- |
| | OVERALL HEIGHT | 900 mm |
| | OVERALL WIDTH | 1000 mm |
| | OVERALL DEPTH | 500 mm |
| | MESH GAP | 52 x 52 mm |
| | METAL EDGING THICKNESS | 25 mm |
| | SIGN ONE | 230 x 400 mm |
| | SIGN TWO | 275 x 300 mm |
| | WEIGHT | 50 kg |
Strength Redefined
Introducing the pinnacle of robustness in the Gas Bottle Cage, crafted from high-quality galvanised steel. This construction is not just about strength; it's about providing a durable solution to gas bottle storage. The 30mm box section and 3mm wire mesh work in unison to create a cage that can withstand significant wear and tear, ensuring a long-lasting storage solution that maintains its integrity over time.
The galvanised steel construction also offers superior resistance to rust and corrosion, an essential feature for outdoor or harsh environmental conditions. This resilience guarantees that your gas bottles are stored in a safe, secure environment, free from the degradation often seen in less durable materials.


All-Season Assurance
Embrace the resilience of the Gas Bottle Cage's weather-resistant frame, a testament to its superior design and material choice. The galvanised frame is meticulously engineered to withstand all weather conditions, ensuring that your gas bottles are safeguarded against the elements. This feature is crucial for maintaining the integrity of the cage, whether placed in sun-drenched areas or exposed to harsh, rainy environments.
The weather-resistant quality of this frame extends the lifespan of the Gas Bottle Cage significantly, offering a reliable and sturdy storage solution year-round. It eliminates the worry of rust, corrosion, or deterioration due to environmental factors, ensuring that the cage remains robust and functional regardless of the climate.
Uncompromised Protection
Elevate the safety of your gas storage with the Gas Bottle Cage's lockable security feature. This cage is thoughtfully equipped with a padlock point and hinge doors, creating a fortified barrier against unauthorised access. The design prioritises your security concerns, ensuring that your gas bottles are not only stored but also thoroughly protected. This feature is especially vital in preventing theft and tampering, providing an extra layer of safety.
The lockable design of the Gas Bottle Cage is more than just a security measure; it is a commitment to peace of mind. Knowing that your gas cylinders are securely locked away alleviates concerns, especially in settings where safety is paramount. Whether for home use or in a commercial setting, the lockable security feature stands as a guardian, shielding your assets and ensuring that they remain under your control at all times.


Scalable Solutions
Experience the ultimate in storage flexibility with the Gas Bottle Cage's expandable storage feature. This innovative design allows you to easily connect additional cages, creating a customisable and scalable storage solution that grows with your needs. Whether you're expanding your business, increasing your storage capacity, or simply adapting to changing demands, this feature ensures that your storage capabilities can keep pace.
The ability to join multiple cages together is more than just an expansion of space; it's an evolution of efficiency. It allows for a cohesive and integrated storage system, eliminating the need for multiple, disconnected storage units. This not only saves space but also streamlines the management and accessibility of your gas bottles.
Safety First
The Gas Bottle Cage sets the standard for regulatory compliance, coming equipped with hazard signs that adhere to gas storage regulations. This feature is essential for maintaining safety standards, particularly in commercial or industrial environments where adherence to legal requirements is not just a necessity but a responsibility. By choosing this cage, you are selecting a product that prioritises safety and compliance, ensuring that your storage practices meet the required standards.
Having hazard signs readily displayed on the cage serves as a constant reminder of the safety protocols necessary for handling and storing gas bottles. This not only promotes a safer working environment but also helps in reducing the risk of accidents and mishandlings. For businesses and individuals who value the importance of maintaining compliance and upholding safety standards, the Gas Bottle Cage is an ideal solution.

Item Information
Holds up to 3 x 19kg gas bottles, versatile storage capacity
Easy-to-assemble modular design, flat panels for convenient setup
Constructed with durable galvanised steel, 30mm box section, 3mm wire mesh
Features lockable security with padlock point and hinge doors
Weather-resistant galvanised frame, suitable for all weather conditions
Expandable storage: Join additional cages for increased space
Compliant with gas storage regulations, includes hazard signs
Dimensions: 900(H) x 1000(W) x 500(D) mm
Material: High-strength, corrosion-resistant galvanised steel
Flat-panel design for compact storage when not in use
Suitable for commercial, industrial, and domestic gas storage applications

Customer Reviews
---
How do you rate this product? Guidance:
Please focus on the item itself. Your review will be most helpful if you include the specific reasons why you either liked or disliked the item.
Try to be concise and straight to the point - but avoid single-word reviews.
---

Free Next Day Delivery
Step into a world of unparalleled convenience with The Workplace Depot's next working day delivery for the Gas Bottle Cage. When you place your order before 3pm, the promise of receiving your product the very next day isn't just a service; it's a commitment to efficiency and customer satisfaction. This rapid delivery ensures that your need for secure gas bottle storage is met with immediate action, bringing you peace of mind without delay.
Imagine the luxury of ordering today and enhancing your storage solutions by tomorrow. This swift service is more than just a delivery; it's a testament to The Workplace Depot's dedication to providing exceptional customer experiences. Whether for urgent business needs or a sudden requirement at home, our next-day delivery service ensures that your Gas Bottle Cage arrives when you most need it, seamlessly integrating into your schedule and workspace.
Always At Your Service
We understand that exceptional customer support is the cornerstone of a great shopping experience. Our dedicated phone line, 0800 0126777, is a direct line to our commitment to you. Available Monday to Friday from 8am to 5pm, our team of friendly and knowledgeable staff is always ready to assist, whether it's a query about the Gas Bottle Cage or guidance on the best product for your needs. We're not just selling products; we're building relationships based on trust and unparalleled service.
We take pride in being more than just a supplier; we are a partner in your business and personal storage solutions. Our eagerness to help doesn't just stop at providing quality products; it extends to ensuring that every interaction with us leaves you feeling supported and valued. Whether you're making a decision, tracking a delivery, or need after-sales support, our team is here to provide prompt and efficient assistance.


Our Warranty, Your Peace of Mind
When you choose The Workplace Depot, you're not just purchasing a product; you're investing in a promise of quality and reliability. Our 1-year parts and labour warranty on the Gas Bottle Cage and other products is our pledge to you, assuring that your investment is protected. This comprehensive warranty is more than just a feature; it's your safety net, ensuring that every product you purchase from us meets and maintains the highest standards of performance and quality.
Our warranty represents our commitment to your satisfaction and trust. We understand that buying for your workplace is an important decision, and our warranty is designed to provide you with the assurance and confidence you need. Should you encounter any issues, our dedicated team is on hand to resolve them quickly and efficiently.
Warranty
1 year parts / labour
Price Promise
We match any price
Easy Returns
Return or exchange