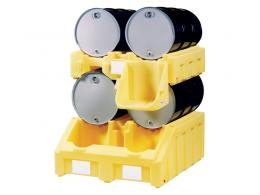 Efficient dispensing/storage system Single and double drum (210 ltr dr...
5 variants of this product...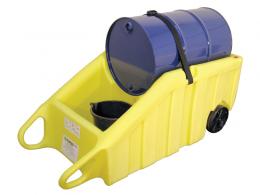 All-in-one transporting and dispensing spillage control tool Reduce...
1 variant of this product...
Drum Dispensers
In order to ensure that industrial drums, which may contain hazardous or dangerous powders or liquids, are safe at all times, a reliable and robust method of dispensing materials from drums and storing drums in a safe and secure manner in the industrial warehouse is essential. The majority of substances stored in drums for industrial use are subject to Health and Safety legislation in the form of the Control of Substances Hazardous to Health (COSHH) standards. This is why it is necessary to use appropriate drum dispensers and racks in the industrial workplace. The Workplace Depot has a comprehensive range of drum dispensers and racks so you are sure to find the exact model for your specific industry requirements. Furthermore all drum dispensers and racks from The Workplace Depot comply with all COSHH standards in this area. In order to safely dispense from a drum containing a hazardous substance the decanting drum stand is the ideal drum dispenser and racks solution. The decanting drum stand has been designed specifically to dispense mixed grade lubricants and provides safe and secure horizontal drum storage for when the drums are not in use. It is made from a fully welded and galvanised steel construction for extra strength and security. The decanting drum stand is able to hold up to three 25 litre drums. For drums containing acid or alkalis, the LBC drum station and pallet is the ideal solution as it is manufactured with high grade polyethylene sumps which have a high resistance to alkali and acids. The stackable drum rack is a modular stackable racking system for industrial drums with a storage capacity of up to 60 205 litre drums. For further drum dispensers and racks check out the full range of products available at The Workplace Depot.