Tubular Rack End Barriers
£65.99
Ex. VAT
£79.19
Inc. VAT
£79.19
Inc. VAT
£65.99
Ex. VAT
FREE DELIVERY
| | |
| --- | --- |
| 20+ units gets 10% off | |
| 10+ units gets 6% off | |
| 5+ units gets 4% off | |
Free Delivery -
Next Working Day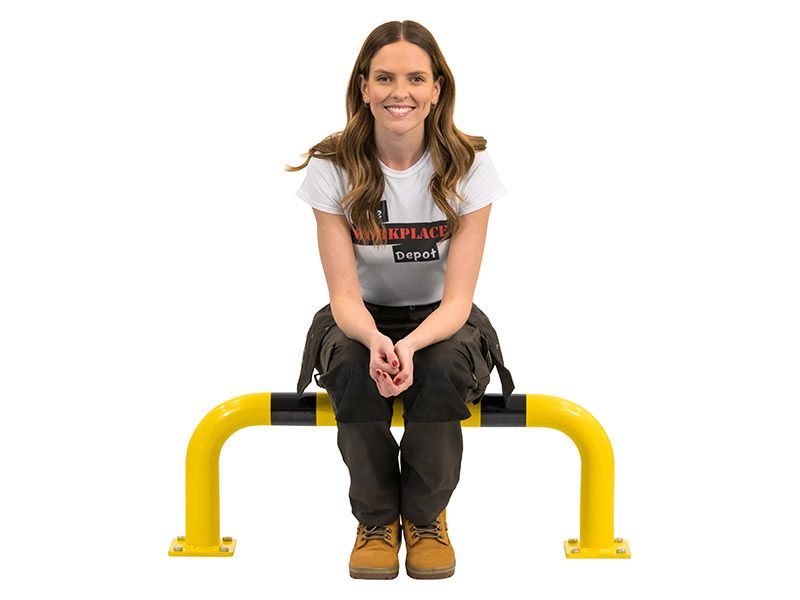 View All Rack Protectors
Elevate Your Warehouse Safety
Maximum Protection: Our tubular rack end barriers provide superior protection for the edges of your racking, ensuring a safe and secure environment.
Heavy-Duty Construction: Made from 3mm steel tubing and a 70mm diameter, these barriers are rugged enough to withstand heavy-duty use.
Indoor and Outdoor Use: These versatile barriers can be used in any environment, making them perfect for warehouses, factories, and distribution centres.
Corrosion and Impact Resistant: The durable mild steel construction and powder-coated finish make these barriers resistant to corrosion and impact, ensuring they stand the test of time.
Easy Installation: The flanged footplate allows for simple surface mounting, and compatible fixing bolts are included for a secure installation.
High Visibility: The highly visible powder finish is resistant to hits and blows, making it easy to see and avoid potential collisions.
Stable and Secure: With a heavy-duty weight of 12.7kg, these barriers provide stability in all conditions, ensuring your pallet racking is protected.

Protect Your Investments
When it comes to safeguarding the integrity of your pallet racking, no detail is too small. It's time you discovered Tubular Rack End Barriers – your trusted companion in the preservation of your assets.
Constructed from robust, resilient mild steel, these barriers are designed to endure, ready to take on heavy-duty challenges. They boast a 3mm steel tubing and a diameter of 70mm, providing solid, steadfast protection for your warehouse, factory, or distribution centre.
Resistant to Hits and Blows
Completed with a conspicuous powder coating designed to resist hits and impacts, these barriers are the ideal pick for your warehouses and distribution centres. The high-visibility finish ensures that the barriers command attention from afar, contributing significantly to collision and accident prevention. Moreover, the powder coating furnishes an additional protective layer, enhancing the barriers' durability and longevity.


Built to Bear the Brunt
Built from robust 3mm steel tubing boasting a 70mm diameter, these barriers offer unrivalled ruggedness capable of enduring the rigours of heavy-duty use. This formidable durability is the key to shielding your pallet racking's edges from potential collisions. The steel tubing constitutes a firm barrier able to withstand the brunt of heavy machinery, pallets, and other items that might collide with it.

Overall Dimensions
| | | |
| --- | --- | --- |
| | OVERALL WIDTH | 1065 mm |
| | OVERALL HEIGHT | 355 mm |
| | BASE PLATE DEPTH | 164 mm |
| | BASE PLATE WIDTH | 144 mm |
| | GROUND TO RAIL | 245 mm |
| | INTERNAL WIDTH | 825 mm |
| | TUBE DIAMETER | 70 mm |
| | WEIGHT | 12.7 kg |
Heavy-Duty Stability
With a substantial weight of 12.7kg, these heavy-duty units present a robust and stable barrier, ready to face all conditions. The barrier's weight is a significant attribute as it ensures resilience against impacts from hefty machinery, pallets, and other items. Moreover, the weight plays a critical role in securing the barrier's position, preventing displacement or movement in case of a collision.


Providing Peace of Mind
With compact dimensions of 355(H) x 1065(W) x 164(D) mm, these barriers are a top choice for warehouse managers and distribution centre operators. The unobtrusive size of these barriers allows for installations in confined spaces, ensuring optimal protection even in areas where space is scarce. This is particularly beneficial in environments where every inch is valuable, facilitating more efficient space utilisation.
Ease into Safety
Featuring a flanged footplate, these barriers enable effortless surface mounting, earning them the favour of warehouse managers and distribution centre operators. The footplate design permits the barriers to be straightforwardly installed onto any surface, be it concrete or other solid foundations. This user-friendly mounting feature saves invaluable time and resources during installation, a significant boon especially in expansive warehouse environments that require multiple barriers.

Item Information
Barriers protect the edges of pallet racking from potential collisions
Suitable for indoor or outdoor usage and will bolt into any required surface
Versatile product typically used in warehouses, factories and distribution centres
Made with strong and durable mild steel to ensure they stand the test of time
Formed from 3mm steel tubing, rugged enough for heavy-duty use
Finished with a highly visible powder finish that is resistant to hits and blows
Corrosion proof and impact-resistant bollards are protected by a powder coat finish
Heavy-duty unit weighs 12.7kg, providing stability in all conditions
Flanged footplate allows for simple surface mounting
Fixed footplate dimensions are 164 x 144 x 10 mm
Overall unit dimensions are 355(H) x 1065(W) x 164(D) mm

Customer Reviews
---
How do you rate this product? Guidance:
Please focus on the item itself. Your review will be most helpful if you include the specific reasons why you either liked or disliked the item.
Try to be concise and straight to the point - but avoid single-word reviews.
---

Free Next Day Delivery
At The Workplace Depot, we understand the importance of timely delivery, which is why we offer free, next working day delivery to mainland Great Britain. With our fast and reliable shipping, you'll have your Tubular Rack End Barriers in no time, so you can start protecting your pallet racking right away.
But that's not all, we also offer same-day shipping when you place your order before 3pm! So, whether you need to protect your racking urgently or simply want to receive your order as soon as possible, we've got you covered.
Your Partner in Creating a Safer Workplace
Our dedication to providing extraordinary customer support is what sets us apart from the rest. We're available Mon-Fri from 8am to 5pm, and our phone number is 0800 0126777 - give us a call, and we'll be happy to help you with anything you need. At The Workplace Depot, we're not just selling products - we're building relationships with our customers, and we're always happy to help.


Experience Worry Free Shopping
At The Workplace Depot, we stand behind our products and are committed to providing our customers with the best possible experience. That's why we offer a 1-year parts and labour warranty on all of our products. We believe that when you invest in our products, you deserve to have the peace of mind that comes with knowing you're covered in case anything goes wrong.
Warranty
1 year parts / labour
Price Promise
We match any price
Easy Returns
Return or exchange