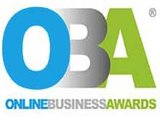 This might be the year when The Workplace Depot has been shortlisted for the most awards ever. So we must be doing something right, right? :)
This morning an email from the Online Business Awards arrived in my inbox. Hurray! I couldn't even remember we've applied for these Awards this year, so double joy! What a great way of making someone's day.
The Online Business Awards, previously known as the Internet Business Awards, are now sat along under the same umbrella as The Online Retail Awards. The Online Business Awards focus on the UK small to medium enterprises, celebrating great achievements and encouraging SMEs to grow and achieve even more.
Some of the other organisations that have been shortlisted are:
Accenture
Barchester Healthcare (with Tamar)
British Gypsum (with Kagool)
Business Comparison
Careers in Audit
Divido
Market Invoice
SL Social
We would like to congratulate all the companies for their very hard work and look forward to meet everybody at the Awards! You can follow us on Facebook and Twitter where will be posting awards updates, and of course, the results.
For more information, contact:
Diana Rusu
t: 01949 836622
w: www.theworkplacedepot.co.uk
a: The Workplace Depot, Miller House, Moorbridge Road, Bingham, Notts, NG13 8XB.
---
Posted in News