A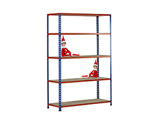 round the office, we've started to notice some… instances. Some of the staff have noticed a peculiar new visitor in our shelving warehouse, and they seem to be enjoying him greatly.
Sitting impishly on our retail shelving, metal shelving, and even on our container shelving, Elf on the Shelf has made itself at home on the many, many, many shelves Workplace Depot has to offer.
The Incidents Begin
At first, we didn't notice our new little visitor. He looked right at home nestled on top of our selection of storage shelving. After all our shelving is designed to handle 545 kg per shelf, and the elf's lithe frame is clearly less than that. Maybe we can convince him to eat more Christmas cookies and experiment with the shelf's overall weight resistance?
However, with our next day delivery, Elf on the Shelf's position had to change quite frequently, sometimes in mid-day (granted, we've never seen the guy move, you know). One day, we had a kitchen rush-order some new Stainless Steel Kitchen Solid Shelving, and our poor elf almost got dragged away by the wheels!
Another day, a business ordered an Archive Storage Shelving Unit for their end-of-the-year prep. We almost didn't see the Elf on the Shelf blending in with the storage unit's red frame uprights! (Sorry, little guy!)
The first week of December was an interesting one as we grew more accustomed to our new warehouse mate, but nothing could have prepared us for what happened next.
Workplace Depot Gets Shelved-Shocked!
We were getting used to looking out for our surprising little friend. Elf on the Shelf certainly knew how to keep us on our toes. We've found him in even the strangest of shelf arrangements:
Even though we already give a quality-check before sending out shelves to our clients, we added an extra measure to protect him and keep him in the warehouse where he belongs. In the short time he's been with us, Elf on the Shelf started to feel like the Workplace Depot holiday good luck charm!
That is… until the morning he disappeared. 
The team searched for the little guy on every shelf we had, but we still couldn't find him. We even called around the other departments to make sure he wasn't hanging out on the workbenches, lockers, or other office furniture.
Then, someone happened to look up. There, dangling precariously from the top of a 1940 mm High Plastic Shelving unit, clung the Elf on the Shelf. Fortunately, we were able to safely take him down and nestle him in a retail shelf that was at a much more reasonable height.
Give The Elves in Your Business Better Shelves!
Do you have a mischievous elf in your own business? Trust us when we say that our selection of high-quality, study shelving solutions is little short of shelf heaven for these little guys. Visit The Workplace Depot for all of your holiday and year-round shelving needs!
---
Posted in News