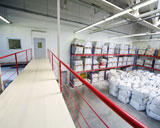 Regardless of what type of business you operate, chances are you already have a warehouse or storage area where products are being housed, organized and prepared for their trip to buyers and clients. If you want to make the process more streamlined and effective, you should focus on every aspect of it for maximum efficiency and control. This means you must go through a number of possible solutions that boost your productivity toward that goal. The following tips are aimed toward giving you that edge:
Upkeep
You should check on your warehouse on a regular basis so you can review its operations. If you have kept it well-organized in the beginning, this may not always be the case with the changing standards that flow into new requirements. It would be a good idea to work with a checklist for your manager so you'll know what's happening.
Prioritizing by Sellers
You should place the higher volume items closer to your shipping area so they can be moved with ease. That way you'll be able to eliminate lost time in labor, which will also speed up the entire process. This should only be done with the movers and shakers of your product base, otherwise you'll have to deal with a lot of pointless moving.
Cycle Counts
You don't have to wait until its time for your annual inventory count to do an inventory control. Doing regular cycle counts will help you better catch the possible discrepancies in your inventory. You should stick to a schedule of that kind for maximum efficiency.
Keeping minimal traffic
It is essential to keep people venturing around your warehouse to a minimum. Unless the person is authorized to be there, they should not be able to stroll around your storage. Eliminating the risk of strangers and minimizing the access will increase security. You should give some way of identification to your employees as a way of keeping security in check.
Space Management
In many cases inventory errors happen because of the lack of space to work with. Employees are forced to pile things together in inefficient ways. Ensuring you work with enough space will result in less errors altogether, also saving you money and efforts.
Labeling
Ensuring proper labeling will not only make it easier to keep inventory, but it will also protect you against time-consuming and expensive errors. These precautions are necessary if you want to run things efficiently and to avoid future trouble.
Double-checking
If you want to avoid dealing with the emergent problems of errors you should always get in the habit of double-checking every order. Quality control is an important part of business, so make sure some experienced employees do that for you each time.
Finishing Touches
Before each day is over you should make sure your employees are in the habit of completing whatever they can, keeping the place clean and ready for the next day. Making sure that is done each time will speed up processes and minimize the amount of mistakes you have to deal with.
Author
Grace is a an expert in the field of home organizing, green living and relocation. You can take advantage of her tips about hiring self storage Dulwich.
---
Posted in Expert Commentary