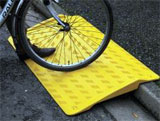 Workplace utility ramps are designed to provide convenience and prevent tripping accidents at your office, warehouse, workshop, departmental store, or anywhere else where you're dealing with uneven floor levels or kerbs. If you have ever tried to push a pallet truck, trolley, or wheel chair over a kerb or step, you know how hard it can be to negotiate just a few inches of height difference. Utility ramps solve the problem and make wheeled movement between uneven levels very easy.
Types of Utility Ramps
Apart from the broad variety of ramps available at The Workplace Depot, there may be other variants of this simple contraption that you could buy at your local hardware store. However, the utility ramps that we offer are tested and guaranteed for quality. Each utility ramp comes with specified load limits and a recommended utility height and use. From ramps for cars to those for bicycles, wheelchairs, pallet trucks, sack trucks, reel trucks, trolleys, and pedestrians, you'll find them all under one roof at our Store. Here are some of the most popular utility ramps and where you can use them.
Kerb Ramp: Available as a single piece or a pair, kerb ramps allow vehicles to drive smoothly onto kerbs up to 100mm in height. Built tough, these ramps can be used for all kinds of vehicles and weigh just 10kg a piece. Even more amazing is their price at £19.99.
Ultralight Telescopic Ramp: These adjustable ramps are best for loading up to 400kg pallets into almost any type of vehicle. Their length can be adjusted between 750mm and 2880mm, and a auto-lock mechanism holds them in place.
Loading Dock Plate: Made from high tensile aluminium, these light-weight plates can be used for loading or unloading a container or truck at a dock.
Utility Ramp: This tough and robust ramp can withstand loads up to 400kg and can be easily wheeled into the required position. Although multi-purpose, this utility ramp is mostly used for wheelchairs access or in industries.
Plastic Kerb Ramp: Extremely useful and practical, this light-weight ramp can either be placed beside a curve or bolted into the ground. It adjusts to a step or kerb height ranging from 60mm to 160mm, and can withstand a load of up to 250kg.
Ground Level Container Access Ramps: If your storage happens to be inside a container placed at the ground level, these are the ramps that you need for easily hauling stuff in and out of the container. The extended slope allows you to move the stacked up pallet truck without hitting the container top.
Aero-Light Standard Ramp: This is the ramp that every workplace or home should keep in their storage. Easy to fold and store, the light-weight ramp can be deployed quickly to provide utility between uneven floor surfaces. It is available in 250 and 350kg load limits.
Hole Cover: This 2000kg capacity hole cover is the quickest solution for covering trenches up to 700mm wide. Use it to facilitate movement and prevent accidents if you have an open drain or gap between surfaces at or around your workplace.
Apart from creating difficulty in the movement of trolleys, pallet trucks, wheelchairs, and vehicles, raised edges and curbs also contribute to trips and falls. When people trip and fall at a store or another workplace, they not only injure themselves, but all too often seek a good "no-claim-no-pay" attorney to sue that workplace for damages. Earlier this month, Express reported that Birmingham City Council had doled out close to £1 million as compensation claims over the last 5 years. These payments were made at various times and included trips and falls claim settlements. A utility ramp makes your workplace safer to work at or visit.
---
Posted in Product Updates