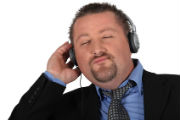 Last year, we published a Top 50 Workplace Songs blog with the majority of the songs potentially relating to our mood at work, potential job titles and the main reason why most of us go to work – for money!
With this in mind, I have decided to create a new list that focuses more on motivational songs that can be considered work related, in order to help get you through the week. (I know its Friday, but I'm just giving you time to go and make yourself this playlist over the weekend!)
Top 20 Motivational Workplace Songs
Work – Britney Spears
Run the World (Girls) – Beyonce
We Built This City – Starship
Eye of the Tiger – Survivor
Don't Stop Me Now – Queen
Let's Go – Calvin Harris & Ne-Yo
Hall of Fame – The Script
Don't Stop 'til You Get Enough – Michael Jackson
Good Feeling – Flo Rida
Money On My Mind – Sam Smith
Wake Me Up – Avicii (or if you prefer more of a classic, opt for Wham!)
A Little Less Conversation – Elvis Presley
Salute – Little Mix
I Will Survive - Gloria Gaynor
Written in the Stars – Tinie Tempah ft. Eric Turner
Rescue Me – Fontella Bass
Roar – Katy Perry
Lose Yourself – Eminem
Livin' on a Prayer – Bon Jovi
I Want to Break Free – Queen
If these songs don't put you in a good mood I don't know what will! Try putting this as a playlist on your iPod or playing them on YouTube for the whole workforce to hear.
According to the New York Times, a study found that those who listened to music completed their tasks quicker and came up with better ideas than those who didn't, as the music had improved their mood.
Let us know on Facebook or Twitter the songs that you listen to to get through your day at work and if any of them are listed above.
Have a great weekend!
---
Posted in Workplace Commentary