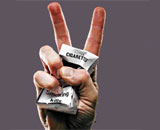 Today is National No Smoking Day - perhaps one of the best known and most worthwhile in the 'National Days' calendar. March also has many other well known 'days including Saint David's Day (1st), Pancake Day (4th), Ash Wednesday (5th), International Women's Day (8th), Saint Patrick's Day (17th), Spring Equinox day (21st) and in some years March also hosts Good Friday and Easter. There has been an explosion in recent years of not so important 'national' days - thanks to the abundance of funny, weird and downright wacky national days that the calendar might not show you, we'd thought we'd bring you a list of our top 10:
1. Festival of Sleep Day
It's 3rd January and you're just back from the holidays. Weren't they exhausting! How about catching up on some sleep? Though the origins of this day could not be traced, it must have been started by some lazy desk-dozers. Sleeping at work isn't recommended (or tolerated), so take a day off and celebrate the Festival of Sleep snuggled into your bed.
2. National Pass the Buck Day
If you are a junior employee, it's better to take this day off, as your seniors might dump their pending work on your head; if they happen to be celebrating the National "Pass the Buck" Day. Held on 4th February every year.
3. National Garlic Day
Celebrated on 19th April, the Day is a tribute to the amazing natural therapeutic effects of, well, garlic. Take some garlic bread to office for snack and share it with your colleagues. Consider a garlic salad for a more radical celebration. The amazing fruit (or is it vegetable?) fights cancer and heart disease, prevents cough and cold, lowers cholesterol, and treats acne.
4. National Bike to Work Day
America celebrates this day on the third Friday in May every year. Although not funny or weird, celebrating this day can be a bit of a problem if you live 10 miles away from your workplace. Nonetheless, it is a good reminder of the health benefits of cycling.
5. National Pink Day
If it's 23rd June and you see your male colleague wearing a pink tie, don't be surprised. He's celebrating the National Pink Day, a tribute to the fairer sex. Girls can dash themselves in pink and men can show solidarity by wearing a pink hat or scarf. The origin is unknown but you'll find this day on the work calendar of some offices, especially where a woman is the boss.
6. National Junk Food Day
For many of us, everyday is a junk food day. But, this tribute to unhealthy eating is celebrated on 21st July every year. Trash the salads and grab some hamburgers with cheese and fries. Eat to your heart desire, but only if you can confine this self destructive behaviour to just one day a year.
7. National Bathtub Racing Day
It's the 1st of July and it's time to take your old bathtub for a spin. Put some wheels under the bathtub and fix a driving motor, or grab some oars to push yourself down a sloped stretch of road. Make sure you don't try this on a freeway.
8. National Bring Your Teddy Bear to Work Day
You might have heard about the "Bring Your Pet to Work Day", but what about the old teddy bear that you still sleep with? Not to worry. You can proudly carry him to work on 5th October. If you have friends who happen to be as weird, you can arrange a teddy bear party during lunch time. Just make sure you don't get fired for being a wacko.
9. National Slam-Dunk Contest Day
On 28th November, push your wastepaper basket in the corner of the room and invite your buddies for a Slam-Dunk Contest. Toss paper balls into the basket and find out who's the hottest shooter in town. Just make sure you don't roll the instructions from your boss into a ball and toss them into the bin. Better use a real ball and show you care for the environment.
10. National Earmuff Day
It's 1st December and the cold weather is freaking you out. Time to take out the creepy woollen things that make you look like an alien. Wear them like a medal to celebrate the National Earmuff Day.
---