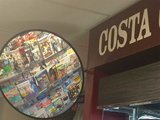 Convex mirrors are all around, in stores, parking garages and on the street almost everywhere we go, but people give them little to no thought when they see them. Have you ever wondered about where they come from, how they were invented and their importance in modern society?
The creation of convex mirrors became possible with the advent of glass blowing in the mid-1700s. When a glass blower had a hot glass bulb they would fill it with a mixture of metals while it was still hot, coating the inside. Once that bulb cooled they would then break or cut it into smaller pieces that would be used as mirrors and pieces of jewelry. While these pieces distorted anyone's reflection that looked into them, they also amplified light and as a result were very popular as aids to brighten dimly lit rooms.
Modern Acrylic Convex Mirror
Convex mirrors maintain their popularity with interior designers to this day, but have also found a place in commercial settings. The more durable acrylic convex mirror is used in commercial environments to provide safety and security in a variety of places. Acrylic convex mirrors are widely used in retail stores such as tuck shops to prevent people from shoplifting. They can also be found in parking garages near ramps and pillars to help drivers see around corners to avoid collisions with other cars and pedestrians.
A safety mirror is also used in warehouses and industrial environments to aid the drivers of forklifts, golf carts and other machinery in safely navigating their laneways and site areas. Safety is a predominant theme in commercial and industrial settings and when such a simple device has the ability to significantly enhance the safety of a company and its sites it's a no-brainer to include in the design.
Affordable Safety & Security
Acrylic convex mirrors are not only incredibly useful in just about any commercial, industrial or public environment, but they also affordable. Many people might be under the impression that the most complex and expensive solution to a problem is the best one, but the acrylic convex mirror solves a number of safety and security issues at a very affordable price.
For more information about how acrylic convex mirrors can fit into your safety and security measures or to purchase an affordable convex mirror contact The Workplace Depot today: 0800 012 6777. Alternatively, shop online and get free next day delivery of your convex mirror.
---
Posted in Product Updates