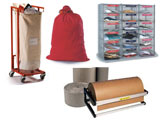 Despite the phenomenal rise of email, the good old snail mail still remains a part of the everyday reality for many offices. All sorts of documents are dispatched and received via regular mail - contracts, notices, bills, greeting cards, parcels; and only the mailman can tell what else.
Government offices usually have a mailroom to deal with the public mail that they receive by the truckloads, and to dispatch notices and bills, which they also send out by the same measure. Certain businesses, such as insurance companies or banks usually have mail rooms in place. For most business, however, the need for a mail room is felt when the business grows to a certain size, and usually after the mail starts getting lost.
A mail room (or post room) can have two basic functions - to sort and distribute incoming mail, and to seal and dispatch outgoing mail. Additional functions such as filing or printing of envelopes and address labels may also be assigned to a mail room.
Things that You need for setting up a Mail Room
If you feel that your office receives a lot of mail on a daily basis, and that mail is getting delayed or misplaced, it's time for you to set up a mail room. Here are the things that you'd require to establish a basic mail room:
A Dedicated Space: Ideally, you should have a separate room assigned as the mailroom. You can also make partitions to separate the mailroom from the rest of the office. The space that you dedicate to your mailroom should be sufficient to accommodate the amount of mail that needs to get sorted and distributed or dispatched. You can use a PVC Screen and Partition to mark the mailroom or to bifurcate it into incoming and outgoing sections.
Mail Sorting Units: These are freestanding shelves that allow a clear view of the contents. The purpose is to place the mail addressed to different people or departments in separate shelves, from where it can be picked up for distribution or directly by the addressee. Mail sorting units come in a variety of sizes, materials and colours to suit the needs of every office.
Mail Trolleys: You can use different types of trolleys for different purposes. If you need to distribute a moderate amount of mail to different offices or people, a Mailroom Trolley would probably do. For heavier loads of mail, a Mail Distribution Trolley would be more suitable. Different types of order picking trolleys can also be used for moving the mail around the office. If there are bulky items and parcels included in the incoming or outgoing mail, you'll need Parcel Trolleys, Roll Containers or Platform Trucks to carry them from and to the mailroom.
Post Benches: You'll need desks for sorting, packing, unpacking, stamping, and labelling mail. Post Benches have a comfortable height for the purpose, and some of them come with a raised border around the top, so that the mail doesn't slip off.
Mail Sacks and Sack Holders: In case you need to carry out moderate or heavy loads of mail from your mailroom to the post office (or anywhere else), you should probably get Mail Sacks of an appropriate size. Canvas mail sacks are tough and waterproof, so your mail stays secure and at one place. Picking up and carrying a sack full of envelops and parcels could jeopardize someone's back. It's an MSD risk, so you should get Mail Sack Holders, which come with wheels and can be rolled around like a trolley with the sack securely placed inside.
Packing Equipment: You might need warehouse packaging, tapes, tape dispensers, cutting tools, and probably a weighing scale, in case you're going to send out parcels and heavy mail.
Organizing a mailroom would take some effort and cost some money, but it will help your office function more professionally. A lost or delayed letter or contract can be disastrous for business. A properly managed mailroom would ensure that your mail gets dispatched and distributed like clockwork, which would also be one of your competitive advantages.
---
Posted in Expert Commentary