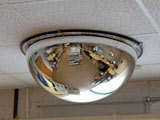 Security convex mirrors have universal applications when you're trying to create a safe and secure movement area or monitored space. Security mirrors work like security cameras, but they are much cheaper and need no maintenance or power supply. Moreover, they provide utility where cameras may be too complicated to use, such as blind curves and corners. Security mirrors come in all shapes and sizes for shops, warehouses, driveways, security checkpoints, and other places where you need an inexpensive "eye-in-the-sky".
Security Mirrors for Warehouses
The warehousing and road haulage industries reported more than 8,500 accidents in 2009–10, out of which some 1,600 caused serious injuries such as fractures or even amputations. Blind spots and corners can cause collisions between loaded trolleys or hoists, with disastrous consequences. A blind spot mirror doesn't just cover potentially hazardous spots but will also provide you a view where you most need it. Thanks to the variety of designs including dome mirrors, wall mirrors, corner dome mirrors, wall dome mirrors and more, you can fix these unbreakable polycarbonate security mirrors anywhere and leave no spot unseen.
Security Mirrors for Shops
Shoplifting has skyrocketed to a 10-year high this year. As a shop owner, these are the times when you want to have the whole store in sight while sitting at the counter. There's no better solution than security mirrors. Unbreakable, vandal-proof and inexpensive, these mirrors get you permanent security around your premises. Sit back and relax as you watch every nook and corner of your store. Security mirrors also prevent collisions around blind corners, making your shop safe to work and shop at.
Driveway Security Mirrors
There can be few worse experiences than bumping into something when backing out of your driveway…could wreck your whole day. Make your driveway secure by simply installing an anti vandal mirror. The polycarbonate convex mirror is mounted on a steel plate and can be easily installed on your gate, fence or wall.
Checkpoint Security Mirrors
We live in interesting times, when it has become almost obligatory to check the undercarriage of vehicles entering sensitive areas. Inspection mirror have traditionally provided that functionality. These convex mirrors are housed in heavy-duty rubber rims and can swivel on a wheel to easily scan the bottom of a car or any other vehicle. The aluminum handle makes these mirrors light weight and an LED torch provides visibility in dark spots. They are ideal for security use at car parks, public events, airports, and all other places where a heightened need of security is felt.
Security mirrors have become common during the last few years because of their cheap price, long life and high effectiveness. Even when you have CCTV cameras installed, security mirrors can provide direct surveillance of the area in real time, enabling people to react in time to avert security breaches and/or accidents. When buying your security mirrors, make sure that they come with a warranty and return policy. Substandard mirrors may reflect blurry or distorted images or get fogged up over a few months. TheWorkplaceDepot offers a wide range of top quality, long-life security convex mirrors at very reasonable prices.
---
Posted in Expert Commentary