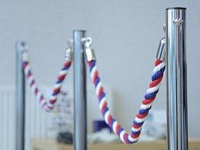 I have been asked to write an article about VIP rope barriers and to be quite honest, I tied myself up in knots over it. I have noticed recently that a lot of businesses and venues have started using rope barriers to add a stylish finish to the building inside and out. But its not just businesses that are using them, after watching most of the music, TV and film awards on the television, I did see some artists and actors been papped alongside some rather nice looking rope barriers, like Rooney Mara at the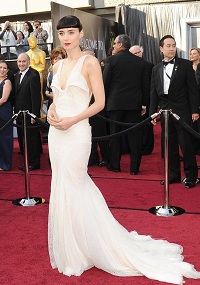 Oscars last year (left). We don't know if they are ours, which is very unlikely, but it is great to know that rope barriers are coming back into fashion.
As part of my research into rope barriers, I asked our sales team whether we had sold any recently, the answer was yes, Bristol Street Motors, an events organiser in London and to a very popular pub & restaurant food chain, who unfortunately we are not allowed to name but have just recently opened a new pub/restaurant in Bingham, Notts. Hint Hint...
So what is so good about a rope barrier? Is it the tall, thin, polished posts? The royally bold coloured ropes? Or is it that they are just perfect in every single way? The answer is yes, yes they are!
The ropes comes in five different colours, white, black, red, green and blue. The ropes are very boldly coloured and will go with any colour scheme that a venue may have, whether it is a red carpet event or a high-end restaurant. There is also a red, white and blue rope designed in celebration of the Diamond Jubilee, Kate's and Will's wedding and the London Olympics 2012. The patriotic rope is brilliant for those British events that are held across the nation.
Each rope can come fitted with either an open end hook or a spring closure hook. The open end hooks are for rope barriers that are used in areas such as VIP areas, so when a Very Important Person wants to access their private area, the bouncers just love to unhook the rope and hook it back up again. Or you can just order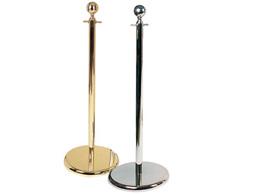 plain rope by the metre and mix and match the hooks on the ends!
We have three types of posts: classic, executive and deluxe. They are all made of robust steel in a choice of brass or chrome finish, depending on your taste and stand one meter high. The classic post has a 4-way connection, ideal for using in an area that requires a lot of post and rope sets. The deluxe posts with the finial top have a traditional style which can be used in elegant venues such as wedding venues, museums and hotels where as the executive posts have a formal style to them which are ideal for business and conference centres, car show rooms and conventions.
Every person knows that they need an accessory to go with their outfit, whatever they are wearing! This is the same with a rope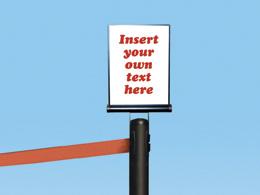 barrier, we have two accessories to go with your rope barriers, an A4 sign holder and a wall fitting. Sign holders are a great way of welcoming people to a venue, displaying posters or displaying those 'please wait here' signs, which your most likely to see in shops queues. The second accessory is a wall fitting. These wall fitting allows the hooks to connect with the wall fitting and provides an access barrier that can be used for VIP areas, bard, shops etc. to allow a maximum amount of people in one area - like some jewellery stores do to prevent any robberies.
So whether you are walking around a museum, on a shopping trip or just happen to be walking down the red carpet, you are likely to bump into a rope barrier - well only if your not a VIP that is!
If you would like to view our range of rope barriers click here.
---
Posted in News