T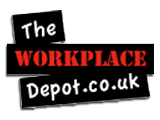 he Workplace Depot is your one-stop-shop destination for all of your business needs. We compete on value with every item we carry plus we strive to offer unparalleled customer service.
The Workplace Depot's Innovations in Customer Service
We want your shopping experience to be as pleasant, friendly, and easy as possible, so we are continually upgrading our website and our services. With an eye toward making our website more customer friendly, we implemented some changes to our online site. First, we began using a program on our site (Capture+ from Postcode Anywhere) that allows auto-fill and validation rather than having our customers fill in address text fields on every visit.
Next, we simplified the checkout process on our web site by cutting back on the information we request and by putting everything on one page so our customers don't have to scroll from page to page to check out. Then we turned our attention to our product pages.
Rather than having extensive product reviews, we have chosen to make the information on each of our products available to our customers in easy-to-read bulleted segments. Our product pages are black and white with the exception of the products, which are featured in color. We feel this makes it easier for our customers to compare and choose the product best for them. Since our product range is so diverse, we also created specific landing pages for each type of product.
What Customers Have to Say About The Workplace Depot
We love to read our customer reviews. They tell us that we are hitting all the right marks in prompt, courteous customer service and dispatch. Customers say we deliver on time as promised, and that is one of the things on which we pride ourselves. One customer wrote, "The Workplace Depot has great prices on great products and wonderfully prompt delivery. They even sent me a text with a time window of the delivery and the driver's name."
We believe it is important to compete on value, so we offer the best prices on the items we carry. When our customers have reviewed us, they have used phrases like "competitive price," and "excellent price."
Offering the very best customer service is just as important as competing on value, and when we make a mistake (which we do not do often), we rectify it as soon as possible.
We value and respect our customers, and we treat them the way we want to be treated. Because of this, our sales staff also gets high reviews. We make sure you do not run into the problems some businesses offer because we do the following:
We do everything we can do to minimize long on-hold wait times
We treat our employees with the same care we offer our customers, so you will not experience rude phone sales representatives
We do not outsource our call centre
We make every effort to answer your questions and to solve any problem you have. We'll never bounce you from person to person to person when you call
We keep our promises—always
We are proud to say we are a Google Certified shop. Because of this, you can be assured you will receive quick, reliable dispatch, outstanding customer service, and purchase protection through Google if an issue arises. Please visit us at The Workplace Depot to experience our superior customer service for yourself.
---
Posted in News