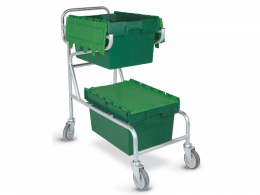 As petty as it may seem, it is important to think twice before you choose a trolley for your workplace. A heavy duty trolley would seem useless in a grocery store, whereas as a shopping cart has no business whatsoever in a warehouse. With the increasing varieties of trolleys in becoming available each day, retailers should choose wisely for their own convenience.
Warehouse Trolleys
Warehouses are large buildings that are purpose-built for storing goods. Shipments are regularly loaded and unloaded in warehouses; hence, warehouses are generally equipped with loading docks. The frequent transfer of heavy consignments calls for firmly-built and spacious order picking trolleys. The trolleys that are usually found in warehouses are "ladder trolleys" and "heavy-duty bin trolleys".
Tons of goods are brought and stored in warehouses everyday; hence, a lot of shelves are needed to store them. Ladder trolleys make it easier to carry and tack goods. Ladder trolleys are equipped with 2 to 3 consecutive tiers and an attached ladder. They are provided with skid-resistant rubber tips, which prevent the trolley from sliding away when the ladder is in use. Castor wheels instead of simple ones allow the trolley to support heavy loads.
Heavy duty bin trolleys are composed of two compartments. The upper one has high walls and a deep base in order to prevent the goods from falling out. The lower one is a flat tray. Spacious and robust, this trolley can effectively take on the challenge that warehouses usage presents.
Trolleys for the Store Room
Store rooms vary in nature and purpose. For instance, cold storage is used for preserving dairy products, meat, fruits, vegetables, and other food items. Fabrics, mats, carpets, and clothing items are stored at textile storage. Whatever their purpose, store rooms require trolleys to move objects from one place to another. The trolleys that are most frequently used in store rooms are trolley bins.
Trolley bins are light, easy to carry and convenient. Their storage capacity ranges from 220 litres to 440 litres. Their walls are made of hardened polythene, so they are firm and shock resistant. Trolley bins are available in different colours and sizes. They are equipped with a spring rising base that brings the bin up to the level of convenience. The bins have several compartments and can be stacked, which makes them easily portable.
Double container trolleys (or order picking trolleys) are the most commonly bought trolleys. They are comprised of two compartments, one on top of the other. This way, the trolley can be used to carry two different types of items, without having to mix them up. Double bin trolleys are used in supermarkets, workshops, and also in warehouses.
Supermarket Trolleys
Supermarkets are home to numerous products ranging from groceries to cosmetics and thousands of articles of daily use. A customer shopping at a supermarket needs an easy way to carry his grocery around the premises. Spacious and smooth to drive, shopping trolleys provide the perfect solution. Their load limit is enough to accommodate a lot of items, almost everything that the average customer needs on their monthly shopping trip.
The large surface area of the shopping cart divides its weight and makes it easier to push around. Although the typical shopping cart comprises of a top bin and a bottom tray, more recently, double bin trolleys are being preferred. Their double compartments allow the customer to place different items separately, for instance, they don't have to mix their toiletries with their foodstuffs.
Other types of trolleys include those stainless-steel-built rugged contraptions that are used in 'dirty environments'. Some trolleys are equipped with a writing pad in order to take notes and record observations. We are still waiting to see a trolley that comes with a touch-screen LCD for you to calculate the expense as you shop. It's not here yet, but the way technology is progressing, you never know!
The Workplace Depot sells a huge range of retail, order picking and warehouse trolleys - click here for details.
---
Posted in Product Updates