Office workers spend much of their day sitting down so it is important that they are comfortable and avoid the kind of bad posture that can cause back pain. It is estimated in the UK that 80 million working days a year are lost through back pain and that 80% of people will be affected by back pain at some point in their lives. Back problems can affect people in both sedentary and manual work and they tend to occur most frequently in the 16 – 44 age range. Perhaps the most shocking statistic is that 80% of people who work with computer monitors will get back problems.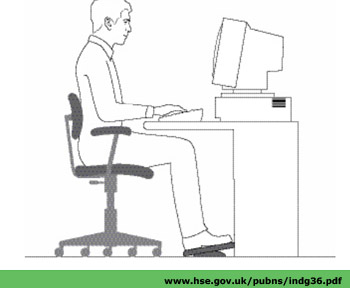 The Health and Safety Executive offer a number of practical tips to make seating adjustments to suit your needs:
 - Adjust your chair and monitors so that your forearms are roughly horizontal and your eyes are at the same height as the top of the screen
 - Try different arrangements of keyboard, mouse, screen and document holder to avoid awkward movements
 - Arrange the screen so that there is not awkward glare (eg from lights, windows)
 - Ensure there is plenty of room under the desk to move your legs around
 - Use a footrest if your feet don't comfortably reach the ground
 - Make sure there is some space in front of the keyboard to rest your arms
Office Seating
There has been some debate recently about how to sit comfortably – the above picture shows a person sitting very upright. This may work for some people but others find a really slouched position is the most comfortable because in this position the spine is quite flat rather than bent at nearly 90 degrees. The only trouble with the very slouched position (pictured) is that it doesn't look very businesslike - the person might appear to be half asleep! The kneeling chair can help people with back problems, although having used this myself I find that you end up getting sore knees so you are just substituting one problem for another. However, the kneeling chair does work for a lot of back pain sufferers.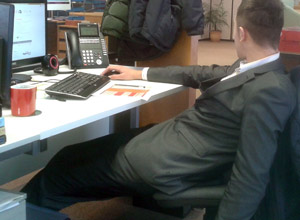 The Workplace Depot has a fantastic range of office chairs – the most popular is the 'Price Blaster High' which has a floating or fixed backrest and a durable 5 star base with twin wheel castors. Towards the higher end of the chair range is the 'Titan' – this is a heavy duty operator chair – heavy in more ways than one. It is rated to 27 stone and obviously has a generous seat measurement and a reclining function with tilt tension. It also has a gas lift seat height adjustment.
There is also a wide range of conference or board-room style chairs. These don't have a swivel or tilt function but can still be extremely comfortable. They range in price from £35 to £85 although there is a multi buy discount as customers usually need to buy more than one conference chair!
If you need any help with deciding what kind of office or conference chairs that you require for your business, then please contact our call centre who will be delighted to help – FREEPHONE 0800 0126366 opening hours are Mon-Thur: 8:30-18:00, Fri: 8:30-17:00
---
Posted in News, Health and Safety