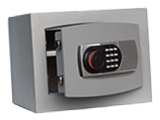 As the darker nights come in, the burglars come out. According to the National Home Security Month (NHSM) website there is a 20% increase in home burglaries when it's darker outside. After taking this in to consideration, NHSM was born to create awareness around home security and the importance of this, especially within these darker months.
October is the month to become more aware of your personal security; not only does securing your home give you peace of mind, it can reduce your insurance premiums.
NHSM breaks down different elements of your home security week-by-week to allow you to focus on certain features separately and easily.
Week 1
NHSM advise you to check the fundamental information on the current burglary statistics within your area. This can be carried out by downloading the Yale Crime Watcher app on to your phone. The app also offers you simple advice for your home security.
Week 2
The second week focuses on securing your doors and windows. It is advised that you upgrade your locks, as well as introducing a door chain and spy hole if you haven't got one already. The festive season sees more visitors and carol singers come to your door, so you need to be able to see who it is.
Week 3
The third week is focused on protecting your valuables. Being close to Christmas you are going to be storing a lot of gifts that you have bought for people so make sure you have put them in safe place, keep the receipts and a note of the serial numbers and even better if you use a safe or vault that is bolted down securely. Also consider installing an alarm within your home to allow your neighbours to be alerted if someone breaks in, and mark your valuables with an indelible ink so the Police can help locate it if the worst case scenario occurred.
Week 4
This week ensures that you consider your outside security. It is important that you don't forget about your sheds and garages; make sure you padlock them, as well as chaining down any valuable products in your gardens that can't be put away. In addition, check that you have alarms in any caravans, etc. that you might keep on your driveway.
Week 5
Finally, week 5 is looking to the future for home security. CCTV is the perfect way to know what is occurring at and around your house. This can then be linked to monitors as well as your router, allowing you to see it on your phone or smart device. Also, using this method at the door will help you to see who's knocking, without making your presence known; you could open up the camera on your TV or device to see who it is.
So if you do anything this October, make sure you secure your house. Have a look at The Workplace Depot's range of safes and door entry systems, to allow us to help you become that little bit safer within these dark months.
---
Posted in News