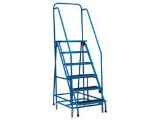 Sadly, fatalities in the workplace are not uncommon. According to statistics released by the Health and Safety Executive (HSE), an estimated 591,000 workers had an accident at work in 2011-12 and 212,000 of these injuries led to over 3 days absence from work and 156,000 to over 7 days absence. Employers reported 114,000 injuries to workers, 24,000 were classified as major injuries; many of these incidents could have been avoided if the correct equipment, such as safety steps and ladders, were supplied.
Richard Pratley was 65 years old when he fell 1.8 metres from a ladder whilst cleaning inside the Snuff Mill Harvester on Frenchay Road in Bristol on the 19th January 2009. He suffered from a fractured skull as a result of the fall, which was caught on CCTV, and he died just four days later on the 23rd January 2009.
The CCTV footage shows Mr Pratley was working his way along the structure, known as the Boathouse, inside the pub after his manager at the time asked him to clean the corrugated roof, which is 4.4 metres high. Despite voicing his concerns about the ladder which, following an investigation, turned out to be damaged and the only one on the premises, Mr Pratley carried out the task as requested. Mr Pratley was unable to reach the top of the roof so attached his brush to a mop handle. He was balancing with one foot on the top rung of the ladder shortly before he lost his balance and hit his head.
Mobile Safety Steps First
Unlike ladders, mobile safety steps are completely self-supporting and have wheels or castors enabling them to be moved around more easily. They also have the advantage over ladders in that the operative can have one or two hands available when moving up or down the steps. For the large safety steps there is also a platform at the top making maintenance tasks much easier. Before using these steps the operative should of course have the appropriate safety equipment and if necessary have attended a course on working at height.
As the HASAW outlines, employers are obligated to provide their staff with safe and fully certified equipment with which to carry out their jobs. Stepladders, safety steps and platform ladders are inexpensive and one of the simplest ways to reduce the risk of your staff falling whilst carrying out their jobs.
For warehouses and commercial environments where staff are required to work across many different height levels, safety steps such as the all-steel, rubber-covered non-slip tread Easy Action Safety Steps, which you simply step on to immobilise and off to mobilise, are highly recommended. For smaller businesses, a step ladder which meets the European Standards EN131 are a must. These always boast non-slip feet, hand rails and high support rails to keep you safe even at the very top.
It is important to remember that falls from heights, such as ladders, are the most common cause of fatalities, accounting for almost a quarter of fatal injuries to workers (23%). Whilst it may seem an inconvenience to check your equipment frequently, it's a small price to pay to safeguard employees and their families from unnecessary tragedy.
Working at Height and Ladder Safety Neglected
It was discovered that neither Mr Pratley (mentioned earlier) nor the manager had received any training in working at heights or the correct use of ladders and the risk assessment was inadequate for the range of work at heights at this particular site. In addition to the lack of safe equipment, other serious issues emerged; an unlocked electrical cupboard was found to have a total of 83 defects including exposed live wires. Heather Clarke, the health and safety officer who led the investigation, also found slip hazards in the kitchen and trip hazards in the outside yard.
The HSE identified that slip, trip and fall (STF) incidents are associated with more fatal and major injuries than any other injury kind with a total of 42 fatalities from 2011-2012 as a result of STF. Many of these incidents could have been avoided by ensuring that all equipment meets British safety standards. With this in mind, Judge Michael Roach said Mr Pratley's fatal fall was 'foreseeable' and that his employers had 'failed' him. Mitchells and Butler were fined £235,000 after pleading guilty to three health and safety offences as well as a further £65,000 in costs to the council.
Similarly, on the 24th November 2012, major construction firm Carillion were fined £130,000 following the death of Russell Samuel in Swansea. Self-employed Mr Samuel, was working on the Meridian Quay development in 2008 when he fell 62ft (19m) whilst dismantling scaffolding. He suffered multiple injuries including a fractured skull and died just two days later on the 24th of January 2008 at Swansea's Morriston Hospital.
BBC News reported that Carillion Construction Ltd was behind the project which includes Wales' tallest building; the 29-storey Tower. Mr Samuel worked for sub-contractor Febrey Ltd. After investigation, both parties admitted breaching section two and three of the Health and Safety at Work Act 1974 which states that 'it shall be the duty of every employer to ensure, so far as is reasonably practicable, the health, safety and welfare at work of all his/her employees.' Carillion were fined a total of £130,000 and ordered to pay £52,500 in costs whilst Febrey, which went into liquidation, were fined just £85.
These two tragic incidents could have easily been avoided had the correct health and safety equipment been supplied to employees. This merely scratches the surface of work-related fatalities; the number of fatal injuries reported to the HSE and local authorities currently stands at 173 for the period of 2011-12, however these figures exclude a number of fatalities which are reportable under other legislation such as road traffic incidents that involve workers travelling and commuting on a public highway. For a full list of exclusions and more information, visit the HSE website.
---
Posted in News, Health and Safety