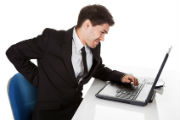 The importance of office chairs may sometimes go unnoticed, however not only can a comfortable chair increase concentration, it is also good for your health...
There are not many worse things I can think of than going to work, sitting down on the most uncomfortable chair and knowing you will be there for the next 8 hours!
Although it may seem trivial, sitting comfortably at work would surely put you in a better mood and even make you feel more productive.
A report from the Continuing Education Unit has found that slouching and similar seated postures can cause backaches, headaches, fatigue and poor concentration, however a healthy posture promotes greater overall comfort and improved awareness.
If, like many of us, you are faced with the everyday mundane office chair, why not try one of the following ways to spice it up a bit:
Add new wheels – a smoother glide across the room and added colour can make your chair more exciting.
Footrest – it can be difficult to decide how to rest your legs under your chair, by adding a footrest you can take the pressure off your legs and knees.
Pillow/Lumbar support – when all else fails, a pillow behind your back will improve your posture without you realising it, as well as making you feel more comfortable.
Take a Seat
On the other hand, if you are looking to indulge in a new chair altogether, The Workplace Depot has an extensive variety of office chairs that will suit a number of needs! From high back chairs and leather chairs to a kneeling office chair, we aim to supply you with a range of requirements.
Here are a few we picked out for ultra-comfort:
High Back – Synchro Mechanism Chair - you can also purchase a chrome base that can be applied to this chair
We spend a lot of time at work, so not only will a good office chair make you more comfortable, it will also benefit your health in relation to circulation and posture – so sit back and relax!
---
Posted in Office, Health and Safety