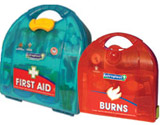 The Workplace Depot (Central Source Ltd) are delighted to announce that we now distribute Wallace Cameron first aid products.
Wallace Cameron has been servicing the needs of the first aid market for over 60 years, supplying new and innovative quality products and services. This has led to the achievement of 2 Royal Warrants and the ongoing ISO 9001:2008 and BRC accreditations.
First aid is imperative to any business therefore it is important to review your workplace first aid needs annually.
Sheena Jack Marketing & Design Manager at Wallace Cameron commented, "We are delighted to have formed a working partnership with the Workplace Depot. Our extensive range of products that are available through Workplace Depot will ensure any business can maintain HSE compliance in the workplace, and enjoy the latest innovations in the market place."
1. There is no mandatory list of items that should be included in a first-aid kit. This will be influenced by the findings of the first aid needs assessment. As a guide, where work activities involve low hazards, a minimum stock of first aid items might be:
1 x Guidance Leaflet
20 x Sterile Plasters
2 x Sterile Eye pads
4 x Triangular bandages
6 x Safety Pins
6 x Medium Dressings
2 x Large Dressings
2 x Gloves
2. Once you have made your assessment - choose your kit from the HSE Complaint range. Choose the appropriate kit for the number of employees you have: 1-10 person • 1-20 person • 1-50 person • Burns Kit • Body Fluid Kit.
3. Do you require first aid for personnel working off site?
ACOP 3(21) (extract from the Health & Safety regulations 1981)
"Employers are responsible for meeting the first aid needs of their employees working away from the main site, for example, those who travel regularly or who work elsewhere. The assessment should determine whether those who travel long distances or are continuously mobile should carry a personal first-aid kit. Organisations with employees who work in remote areas should consider making special arrangements such as issuing personal communicators, providing special training and organising emergency transport facilities, where employees work alone, other means of summoning help such as a portable telephone maybe useful to call for assistance in an emergency."
IMPORTANT - You should regularly check the contents of your first aid kit and if there are any depleted items they should be replaced immediately. Sufficient first aid supplies should be held in stock on site and care should be taken to dispose of items safely once they expire.
Guest author: Sheena Jack, Marketing & Design Manager, Wallace Cameron
---
Posted in Health and Safety