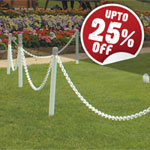 Plastic chain, post and bases are not the most exciting products that we sell at the Workplace Depot, but they are the kind of items used just about everywhere by businesses, especially those that are open to visiting members of the public. Hotels and golf clubs use miles of the chain along with our ground fixed posts – ie posts that can be hammered into soft ground like soil and grass. So you will often notice that car park areas use the chains to cordon off grassy areas and flower beds. The white chain with the ground posts are used by many hotels as they are very quick and easy to install and look great for a long period of time.
Our chain has a number of qualities that are better than other plastic chain that you might advertised. It is made from polyethylene (actually a high density plastic that can be recycled) and means that it will not go brittle and actually has some 'give' in it so if it is pulled or trodden on it won't necessarily snap. As it is regularly used for low level fencing, if someone does tread on it, it won't tend to get damaged. It is also UV stabilised to reduce any colour fade and is resistant to cold temperatures. So in comparison to a low level fence, both the post and chain are likely to out last wooden versions not to mention look better and be cheaper to install.
There is also something of a trend for airports, schools, car dealership and stately homes to use the chain both indoors and outside. Obviously when used indoors you will need to have free-standing posts, usually with a low profile, rubber base. There are also outdoor free standing posts with either rubber, concrete or water weighted bases. The chain comes in 5 solid colours, white, red, black, yellow and green plus several multi-colours namely red/white, yellow/black and a patriotic red, white and blue. Other colours are possible although require a bulk order. There is also metal chain available for both indoor and outdoor use which has a hot galvanised finish – you can also chose between plain chain and spiked chain.
We have a video on the site giving more details and you are always very welcome to call our helpline which is open UK office hours Monday – Friday.
---
Posted in Product Updates