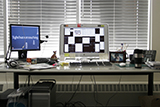 So after seeing some really good looking images of offices and workplaces and hearing about what particular workplaces do to keep their staff motivated, I thought I'd share my particular favourites (obviously not including The Workplace Depot, that blows all of these out the water).  So some of the really cool places to work, in my opinion:
Google
Probably with no surprise to you reading this, Google has got to be on this list.  All of Google's offices are seriously cool, with features within the London office such as: snugs, a roof terrace, an allotment and many different great looking rooms.
Inventionland
So from the name, we can see that Inventionland brings new products to world.  As you can imagine they need a very wild and wacky environment to get their imaginations running wild.  So when I mean wild, I mean; a racetrack, treehouse, boot, caves, castles, boats and more.  What an environment to be in.
Red Bull London
Now this office if definitely the one for me, taking a look at the images, this office seems to have been dragged straight out of a sci-fi movie.  Great futuristic, spectacular and elegant design.
The Boston Beer Company
Now if you're like me and you enjoy nothing better than a cold beer at the end of the week, then this job could be right up your street.  After crawling the web, I found this brilliant company that want their staff to enjoy their products.  How do they do this?  They give them 2 free cases of beer (of their choice) every month – who needs fancy offices?
Pixar
Who wouldn't love to work for Pixar, being surrounded by your childhood all day and contributing to the next generation's childhood?  Not only that, if you have children, you would literally be the coolest parent ever!  After reading a little bit into Pixar, not only does it seem to be one of the best places to work, it also seems to be one of the hardest places to get into; one part in particular I read about was somebody's interview process; seeing 2 people every half an hour, for 8 hours – Imagine!  However when you look at the office you get to work in, it is all worth it.
Are there any others you can think of?  If you have any favourite offices or workplaces, let us know on Facebook or Twitter
---
Posted in News