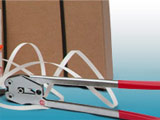 If you want to make sure that an item that you are sending to someone is securely held in place or you need to make sure that items are properly protected then you need to consider using the right strapping.
Here is a guide on what to look for so that you can choose the perfect strapping for the job in hand.
Regular Steel
There are mainly seven different types of strapping that can be used and each one has different qualities depending on the application that you have in mind.
Regular steel is used when you have a heavy shipment to send that needs a high level of protection and needs to be more robust than the level of resistance that poly strapping can provide.
Regular steel banding has fair elongation qualities and very good break strength whilst offering fair corrosion resistance and excellent UV resistance should it be needed.
Stainless Steel
If you are looking for premium quality strapping that is built to cope with extreme indoor and outdoor conditions then the stainless steel banding that you can get from companies like ISOStainless.com will definitely fit the bill.
With stainless steel banding you will benefit from good elongation and excellent break strength. You will also enjoy the protection of extreme corrosion resistance and excellent UV resistance.
High Tensile
You will often find high tensile banding used on a high percentage of railroad shipments and this is because it offers excellent break strength which is often critical in this type of transportation.
High tensile banding does not offer the same high level of corrosion resistance compared to stainless steel but its strength is the main quality that makes it such a popular choice in this type of shipment.
Zinc-Coated
When you have items that are not due to be shipped immediately and may require long-term outdoor storage then zinc-coated strapping is probably the best solution in these circumstances.
It offers excellent break strength and good elongation whilst its corrosion resistance qualities are understandably very good.
Polyester
Steel is the first choice for many but if you have some medium duty applications then polyester strapping offers a viable alternative in some instances.
Polyester strapping certainly offers very good break strength qualities and as you would expect from this material, excellent corrosion resistance.
Poly
One of the main advantages of poly strapping is that it is around half the weight of steel and is considered by some to be a bit easier to use and may even be less expensive as well.
This type of strapping has very good elongation and good break strength plus excellent corrosion resistance.
Poly Cord
Woven polyester offers a combination of great strength and a high level of shock resistance too.
It offers very good elongation, break strength and UV resistance whilst also providing excellent corrosion resistance.
Every application or shipment can vary and in order to get the right level of protection, it makes sense to take the time to work out which type of strapping is perfect for the task.
Author: Timothy Stokes is a veteran in shipping. He enjoys writing about his tips and tricks to successful movement of goods.
---
Posted in Expert Commentary