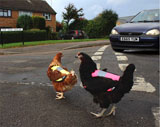 The world we live in today is one which is becoming more health and safety conscious and we have been described as a hi-viz society, as more and more people are donning hi-visibility clothing to stay safe at work, whilst out at night or with young children who are walking to school.
The latest group of society to join the hi-viz trend is the feathered kind. Yes, that's right. The chicken coop company Omlet have started selling a Health and Safety Gilet for chickens.
This revelation in chicken technology comes from the increasing number of chickens in urban and suburban areas. More people are having chickens as domestic pets, which live in their back gardens near busy roads and streets. If chickens in these urban areas happen to escape out of gardens and under fences, then they won't think twice about whether there is a road in front of them or not. It has also been said that chickens that are being kept as pets in towns are becoming confused. The bright lights coming from street lamps that line suburban streets and town centres are dazzling the chickens, who then believe it is actually daylight, resulting in the chickens staying up later than usual and past their bed time. With all these chickens awake in the small hours of the night, already bewildered by the artificial street lighting, it has become paramount that we make the effort to keep our fowl safe by slipping them into hi-viz jackets so that they are visible in the dark, when they are at their most vulnerable and, by the sounds of things, most active!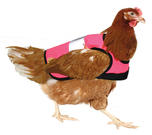 As well as chickens who wander the city streets late at night being threatened by passing motor vehicles, homeless hens are also extremely susceptible to attacks from their urban neighbours such as dogs and foxes. While the hi-visibility jackets aren't the chicken equivalent of a bullet proof vest, they do still provide a little more protection than if they were wearing nothing at all as they do create a resistant barrier between the bite of a large mammal and the body of the chicken.
These safety vests are available to buy in fluorescent pink and yellow, so your chickens will be stylish as well as safe.
The chicken gilets fit over the wings of the bird and fasten securely with Velcro. They are also lined with a luxury quilted inner material which has been formulated by NASA. They do help to keep the hens warm in the cold night air and this is especially important for ex-battery hens who have been adopted as domestic pets. Battery hens are bred with fewer feathers so they feel the cold more than free range chickens. A quilted vest can also keep your chickens warm. However, there is a warning that the fluorescent vests are unsuitable as chicken pyjamas, as they can cause the chickens in the coop to overheat – and nobody likes an overdone chicken.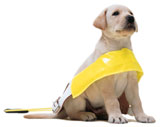 Chickens aren't the only animal to be jumping on the health and safety, hi-viz band wagon. Guide dogs are well known for wearing the neon coloured jackets to help them be seen whilst guiding their owners. Police horses also have hi-visibility leg bands that go around their ankles to help them be visible whilst on patrol at night.
Making sure that you are seen in low light is a very important issue, whether you are a person or an animal. When you are walking or cycling at night or in dim light then you must make sure you wear reflective clothing to help motorists see you as they pass by. It is advisable to wear a reflective belt whilst cycling. It is easy to wear and will not hinder your ability to cycle safely. Similarly, it is a health and safety regulation that people working unloading stock and supervising delivery lorries wear hi-visibility clothing such as jackets and trousers. This is to ensure that you are visible to the delivery driver to avoid workplace accidents.
So, maybe we need to change the age-old question "why did the chicken cross the road?" to "how", and the answer…. Safely in a hi-viz vest.
To see our full range of hi-viz clothing, click here.
---
Posted in Health and Safety, Amusing