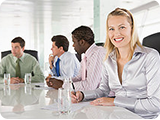 It doesn't matter if you are a new business or an existing one; you need to make sure you have a nice boardroom to make sure everybody is comfortable and obviously to impress all of your clients – first impressions and all that!  So before organising any meetings, make sure your boardroom is well equipped with the essentials.
If you are a company like Google and have plenty of money and thousands of staff; you could go with the option of kitting out your boardroom with unique designs and expensive equipment, such as: smartboards, mini bars, lazy boy chairs, mood lights, etc.  However if this isn't you, you could go for the more traditional board room layout with all of the essentials, yet still look good!
Starting with the main focus of the room, where everybody will be looking; the whiteboard.  You need to have a main focus point of your room, when you are having your discussions to try and improve something, you need to make sure you can jot your ideas down.  Me, personally I prefer a whiteboard; note down, rub off, note down, rub off – It's as simple as that.  A smartboard can go wrong, a PC can go wrong.  Sometimes the simple ideas are the most effective.
OK, so you have your whiteboard for everybody to scribble on, but you are going to need some furniture.  Get yourself some nice, comfortable chairs.  Don't get rubbish wooden ones that are going to cause everybody back problems in later life - Get something that your staff will enjoy sitting on in their meetings!  As well as getting comfortable chairs, make sure you get a meeting table that allows everybody to see the whiteboard and each other.  There is nothing worse than having to look around people to see the whiteboard.
Sometimes it may be necessary to have a cabinet or cupboard of some sort.  Really the only reason you need this is to store; spare whiteboard equipment, paper and biscuits – Nothing else! So make sure you get one that fits in the rooms nicely, but has plenty of room for your custard creams.
Wall planners can sometimes be a great tool to manage staff, projects, teams, tasks, etc.  This isn't quite an essential piece of boardroom equipment, but I thought I would throw this one in.  It would definitely work well if you use your boardroom for big project discussion meetings.
As well as wall planners; noticeboards can be very useful to mention certain news within the boardroom.  Again, it isn't the most essential piece of kit, but definitely worthy of a mention.
Moving towards health and safety a little bit, it is essential that if you were to use any computers, projectors, etc. within your boardroom, you need to make sure your cables are protected with some form of cable cover.  The last thing you want is your client suing you once they've fallen head over heels over your power lead.
The final essential piece of equipment is a bit of a rubbish one (pun intended), it's obviously the need for a bin.  Whilst having all of your project planning meetings, you are definitely going to come up with some dreadful ideas from time to time.  So these need throwing straight in the bin and you need to start again.
Get involved! - Let us know if you can think of any more boardroom essentials on Facebook or Twitter.
---