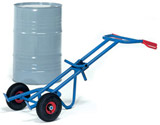 You need to be a very creative person to write about Platform Trucks; they all perform a similar function, have four wheels and are usually blue! So spare a thought for the poor website editors asked to write interesting and informative descriptions on 35 different types of modular trucks. The Workplace Depot also sell 26 very similar 'hand pallet' trucks and 100's of other products in our trucks and trolleys range. So after grinding out descriptions for 10 near identical products, we gave up and decided to commission a group of young (cheap) and enthusiastic 'wordsmiths' (their words not ours) to craft out many fascinating descriptions.
Our wordsmiths have all done fabulous jobs but they may on occasion have wandered off into storyville territory and let their imaginations roam. They were also supplied with vast amounts of free fizzy drinks, Kit Kats and M&Ms and and the sugar rush highs might possibly show up in some of the descriptions. Here's an example of one such creative 'high'
a customer in the debt collection industry uses these to show his clients he means business by putting them into a barrel alive and bouncing down on a bumpy road with the pneumatic tyre version and then stopping, resting the barrel upright and having a cup of coffee on top of the barrel while you talk about their possible fate. Collections increased to near 100%.
On a serious note
We hope that visitors to our website will give us a little bit of poetic license with our descriptions – we are trying to make them both informative and interesting. However, we appreciate that this may not be everyone's cup of tea. If you do see something on our website which you think is in poor taste or in some way inappropriate, then let us know. If you are feeling creative and would like to write a description then send one (or more!) in and we may include it on the page and even send you a small reward!
The Workplace Depot website editors
---
Posted in Product Updates