Lockable Storage Cabinet
£96.59
Ex. VAT
£115.91
Inc. VAT
£115.91
Inc. VAT
£96.59
Ex. VAT
FREE DELIVERY
| | |
| --- | --- |
| 20+ units gets 3% off | |
| 10+ units gets 2% off | |
| 5+ units gets 1% off | |
Free Delivery -
Next Working Day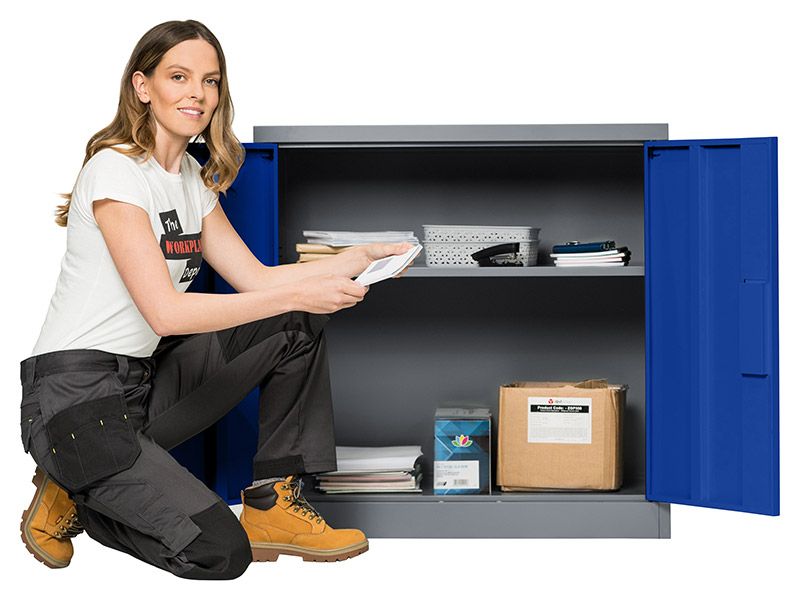 View All Metal Storage Cabinets
More Space, Less Worry
Secure Storage: Keep your belongings safe and secure with our lockable cabinet.
Durable Design: Made from robust steel with a powder coat finish for long-lasting use.
Spacious Interior: 900(H) x 900(W) x 450(D) mm cabinet with an adjustable shelf for maximum storage space.
Stylish Addition: Light grey frame and blue doors add a touch of style to any decor.
Versatile Use: Ideal for use in universities, hospitals, warehouses, and other commercial spaces.
Reinforced Doors: Vandal and warp-resistant doors ensure your items remain safe.
Heavy-Duty Shelf: Shelf with a solid load capacity of up to 35kg UDL, perfect for stockrooms and workshops.
Industrial Grade: Designed to maintain structural integrity in adverse conditions.
Easy Assembly: User-friendly design allows for quick and hassle-free installation.

Secure What's Important
Crafted from resilient steel and given a refined powder finish, our Lockable Storage Cabinet is both cost-effective and built to last. Its elegant light grey body paired with bold blue doors brings a dash of class to any setting. Benefit from its versatile height-adjustable shelf that can confidently support up to 35kg, making it ideal for storerooms and workspaces.
Unwavering Security Seal
The cabinet's locking mechanism guarantees the safety of your possessions from unwanted access, instilling confidence in you to securely store your most prized items. Be it confidential documents in an office, cherished tools in a workshop, or critical medical supplies in a hospital, our lockable doors, fortified with key cam locks, offer that indispensable layer of security fitting for numerous settings.


Enduring Steel Guardian
Crafted from resilient steel, this cabinet is designed to endure rigorous use while preserving its structure, even when faced with challenging conditions. It's an optimal choice for places like workshops, stockrooms, and warehouses, where contents are regularly shuffled. Beyond its toughness, the steel build offers reassurance for those storing valuable items, as the cabinet resists both wear and unwanted entry.

Overall Dimensions
| | | |
| --- | --- | --- |
| | OVERALL HEIGHT | 900 mm |
| | TOP COMPARTMENT HEIGHT | ADJUSTABLE |
| | BOTTOM COMPARTMENT HEIGHT | ADJUSTABLE |
| | OVERALL DEPTH | 450 mm |
| | INTERNAL DEPTH | 405 mm |
| | OVERALL WIDTH | 900 mm |
| | INTERNAL WIDTH | 898 mm |
| | METAL THICKNESS | 1 mm |
| | WEIGHT | 20.85 mm |
Customisable Storage
Featuring a height-adjustable shelf, the Lockable Storage Cabinet adapts to suit your storage needs, accommodating items of various sizes and dimensions. Perfect for those seeking to optimise their storage area, its versatile design welcomes an array of items. With a commendable load capacity of up to 35kg UDL, you're assured the strength to store weightier items, be they tools, equipment, or varied supplies.


A Sleek Look for Any Setting
The Lockable Storage Cabinet boasts a refined finish that seamlessly blends with any decor, making it an apt choice for diverse settings—be it offices, workshops, universities, hospitals, or warehouses. Beyond its visual appeal, the powder coating fortifies the steel, ensuring longevity and sustained aesthetic appeal. It's an investment in style and function, tailored for those who desire a storage solution that serves and impresses in equal measure.
Designed for the Toughest Conditions
Designed with resilience at its core, the Lockable Storage Cabinet stands unfazed, be it in a workshop, stockroom, or warehouse. Its industrial-grade strength caters to those storing heavier items, ensuring the cabinet remains undamaged and intact. Those storing precious items can rest easy, confident in the cabinet's robust construction to shield their valuables from harm.


Built to Handle Heavy Use
Engineered with steadfastness, the doors of the Lockable Storage Cabinet can withstand demanding scenarios, promising durability even under heavy usage. Regardless of its setting - be it a workshop, stockroom, or warehouse, the doors are crafted to uphold their structure, reliably guarding against unwelcome conditions. For those securing prized possessions, the vandal and warp-resistant feature of the doors ensures your items remain shielded from potential damage or interference.
Item Information
Measures 900(H) x 900(W) x 450(D) mm
Made from robust steel with a grey powder coat finish
Lockable doors with key cam locks, supplied with two keys
Vandal and warp-resistant doors for added security
Height-adjustable shelf with a solid load capacity of up to 35kg UDL
Internal dimensions of 779(H) x 845(W) with a door width of 422.5mm
Ideal for use in offices, workshops, universities, hospitals, and warehouses
Industrial-grade design for use in adverse conditions
Sleek and stylish design to complement any decor
Easy assembly with step-by-step instructions included.

Customer Reviews
---
How do you rate this product? Guidance:
Please focus on the item itself. Your review will be most helpful if you include the specific reasons why you either liked or disliked the item.
Try to be concise and straight to the point - but avoid single-word reviews.
---

Free Next Day Delivery
At The Workplace Depot, we understand that you need your storage solutions fast. That's why we offer free, next working day delivery to mainland Great Britain for our Lockable Storage Cabinet. With delivery available on orders placed before 3pm, you can have your storage solution up and running in no time.
Expert Support, Always at Your Service
With our friendly and knowledgeable customer support team available Mon-Fri from 8am to 5pm, you can always count on us to be there when you need us. Whether you have a question about a product, need help placing an order, or just want to talk to someone about your workplace needs, our team is always happy to help.
We understand that your time is valuable, which is why we make it easy for you to get in touch. You can reach us by phone at 0800 0126777, and we'll be ready to assist you with any questions or concerns you may have


Peace of Mind
We believe in the quality of our products and stand behind them 100%. That's why we offer a comprehensive 1-year parts and labour warranty on all of our lockable storage cabinets. This warranty gives you peace of mind knowing that if anything goes wrong, we've got you covered.
Warranty
1 year parts / labour
Price Promise
We match any price
Easy Returns
Return or exchange