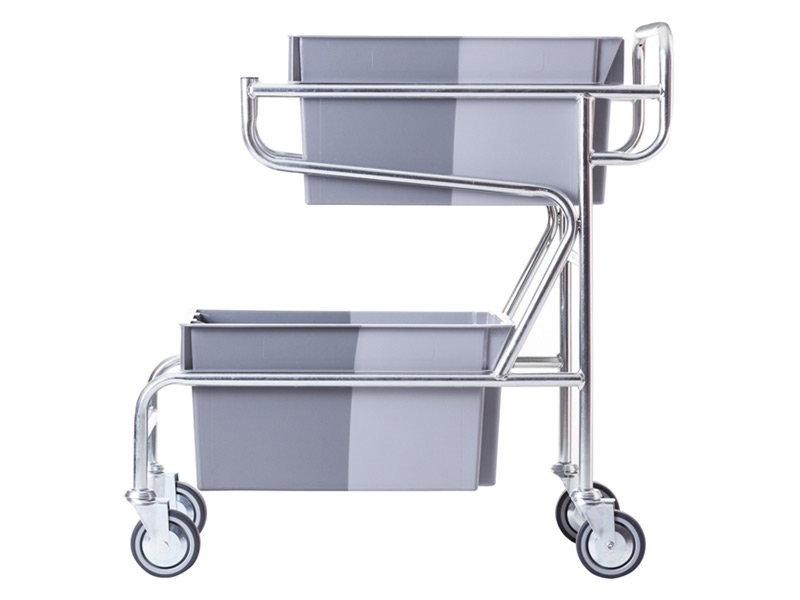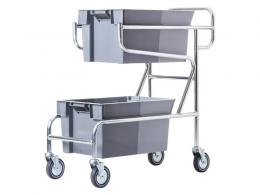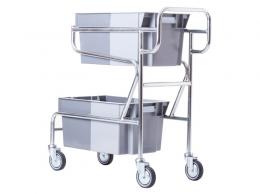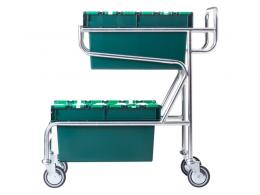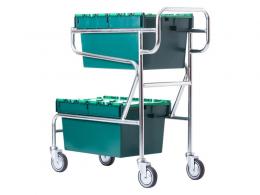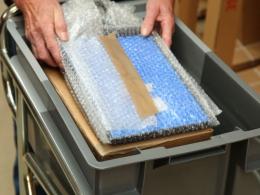 Double Container Trolleys
Price in singles from
£214.70
Price
for multiples
from

£209.05
FREE Next Day Delivery!
150kg Capacity
Zinc plated tubular steel frame on smooth running 125mm diameter castors
Choose from either green or grey plastic containers
Green containers have captive folding lids
Ideal for stock replenishment
These are a very popular order picking trolley with wholesalers, distribution operations, retailers and components companies. The double container makes order picking more efficient as well as allowing for clear separation of types of product. More information on order picking trolleys.
FREE DELIVERY
Next Working Day
Warranty
1 year parts / labour
Product Variations
Code

Colour

Dimensions (mm)

Internal Containers Dimensions (mm)

Litre

Price

Add to
Cart

Code:

T5101

Colour:

Zinc frame and Green containers

Dimensions (mm):

985(H) x 420(W) x 970(D)

Internal Containers Dimensions (mm):

285(H) x 335(W) x 508(L)

Litre:

54

Price:

£226.00

£214.70

Code:

T151G

Colour:

Zinc frame and Grey containers

Dimensions (mm):

1070(H) x 510(W) x 915(D)

Internal Containers Dimensions (mm):

270(H) x 340(W) x 460(L)

Litre:

50

Price:

£239.00

£227.05
Double Container Trolleys
What is the Purpose of the Container Trolley?
What's a shopping expedition to a retailer center or grocery store without a container trolley? They make life easier and enable shoppers and consumers of all ages to go around a store and purchase to their heart's content. Container trolleys are made of stainless steel areas wherein baskets are retrofitted on top and at the bottom for more space for items. They have four wheels and an ergonomic handle with a height that's just right to make people shop in comfort and peace.
Where Can the Container Trolley be used?
Container trolleys are mostly found in major supermarkets and groceries worldwide. Initially, it only fits one basket but soon was improved to have one below, mostly to segregate wet from dry goods or the edible from the personal or household products which consumers purchase. With the advent of big home accessories stores, the container trolleys found itself a new area to be used in. Bookstores as well have found itself with container trolleys in its aisles to help people shop for books and other office supplies. Of course, department stores have container trolleys to thank for their clients comfort which leads to numerous shopping bags upon check out.
Who Might Use Container Trolleys?
Other places that should have container trolleys are community markets. With the local SME's booming and food markets extending to offer cooked items, people will appreciate having their shopped goods in one safe area to lug around as they check more stalls and things to buy. Convenience stores can also take advantage of this as a way of offering extra good service to their clients. Although most clients would go there to get only five items and below, some do their business in the store such as bill payments, banking needs, and may need a place to put their bags and purchases right beside them. Those with warehouse sales should also provide container trolleys to ensure a seamless shopping experience.
Container Trolley Specifications
The Workplace Depot sells container trolleys for only 113.60 pounds with free next day delivery after placing the order. Its steel frame is zinc plated and placed on 125mm diameter castors. Internally, each basket is 510 in length by 335 width by 285 in height and comes in green and grey colours. Upon purchase, additional plastic containers are included in the package and carries weight of up to 150 kg. The company provides one year warranty on parts and labour.