Aluminium Step Ladder
£42.90
Ex. VAT
£51.48
Inc. VAT
£51.48
Inc. VAT
£42.90
Ex. VAT
FREE DELIVERY
Free Delivery -
Next Working Day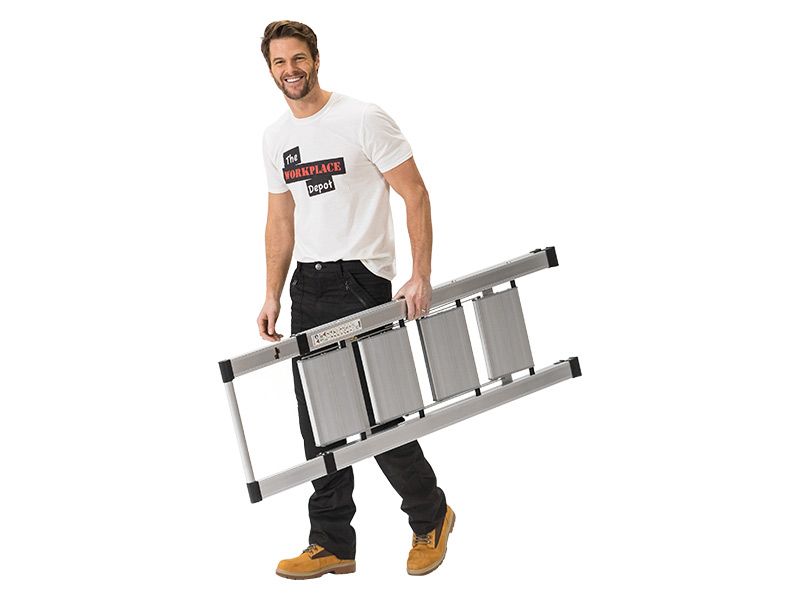 View All Step Ladders
Stay Safe and Steady While Working at Height
Lightweight and durable: Step up and get the job done with ease thanks to this high-grade aluminium alloy ladder
Non-slip treads: Stay safe and secure while working at height, with non-slip treads that incorporate strengthening beams for added stability
High load capacity: With a load capacity of 150kg, this ladder is suitable for both professional and domestic use
Portable and convenient: Foldable design with compact dimensions makes this ladder easy to store and transport
Wide range of uses: Perfect for a variety of jobs, from DIY projects to heavy-duty professional use
High handrail: Provides added stability and safety when working at height
Designed for safety: This ladder adheres to the highest health and safety requirements, with anti-slip tread surface and non-slip rubber-covered feet
Easy to use: With its simple and straightforward design, this ladder is easy to set up and use
Generous dimensions: Ground to top step measures 935mm, while the overall dimensions are 1490(H) x 460(W) x 55(D) mm.

High Performance, Heavy Duty
Enhance your work, stride by stride, with our top-tier Aluminium Step Ladder. Fashioned from premium aluminium alloy, this ladder strikes the ideal balance between being light in weight and robust in endurance.
This four-tier, foldable model has been fortified with reinforcing beams and slip-resistant rungs, providing a steady and secure platform for those vital tasks above ground level. It's a perfect companion for household chores as well as commercial projects, bearing a solid load capacity of up to 150kg.
Lightweight Powerhouse
Our Aluminium Step Ladder is an indispensable asset for both individuals and professionals. Crafted from durable aluminium alloy, it's resilient enough to withstand regular, heavy-duty tasks yet light enough to be effortlessly moved and positioned.
Ease of setup and use is another plus point of its light build, lessening the potential for strain or harm. The ladder's professional-grade quality guarantees its longevity, serving as a reliable and enduring tool designed to tackle a diverse range of tasks.


Solid Support, Secure Steps
Our four-tier folding model, reinforced with strengthening beams and equipped with non-slip treads, is a prime example of functional safety and convenience in a step ladder. Its foldable design allows for simple storage and transport when idle, while the four treads offer plentiful workspace and the ability to ascend to greater heights.
The strengthening beams woven into the ladder's structure provide an extra layer of rigidity and stability. This makes it highly suitable for heavy-duty tasks and enhances the ladder's load-bearing capacity.

Overall Dimensions
| | | |
| --- | --- | --- |
| | Folded Height | 1490 mm |
| | Expanded Height | 1395 mm |
| | Width | 460 mm |
| | Folded Depth | 55 mm |
| | Expanded Depth | 805 mm |
| | Tread Width | 284 mm |
| | Tread Depth | 180 mm |
| | Tread Distance | 220 mm |
| | Foot Width | 70 mm |
| | Weight | 5.6 kg |
Powerfully Practical
The remarkable load capacity of 150kg stands as a noteworthy trait of our step ladder. It endows individuals or professionals with the confidence to bear more weight, an aspect that proves useful for tasks necessitating heavy tools or equipment, or those requiring multiple items to be transported up the ladder concurrently.
Such a feature is a boon for frequent ladder users as it minimises the need for constant rearrangement or repositioning of items, making work more efficient and less taxing. Its substantial load capacity renders it a versatile choice for a variety of tasks, whether at home or on the job, ensuring the ladder can rise to the challenge of diverse requirements.


Resilient Against the Elements
The anti-slip surface on our ladder offers enhanced grip and traction, significantly reducing the risk of slips and falls during elevated work. With resistance to water, grease, and most chemicals, the ladder is fit for use in environments where such substances are prevalent, like industrial sites or laboratories.
Moreover, the anti-slip tread surface boosts the ladder's durability, as it's less prone to wear and tear or damage over time. Such a feature offers users a safer, more reliable ladder, making it an invaluable tool for any given task.
Stand Firm, Work Safe
Our ladder's rubber-covered feet offer a sturdy hold on the ground, significantly lowering the chances of unwanted movement or sliding during use. This ensures the ladder's stability and security, even under tough conditions. This feature is especially beneficial for professionals regularly operating on ladders, or for those who find themselves working on slippery surfaces.
These non-slip, rubber-covered feet also enhance the durability of the ladder, given their increased resistance to wear and tear over time. Providing superior grip on the floor, they effectively reduce the risk of the ladder tipping over or sliding, contributing to a safer work environment.


Safety-Sealed Assurance
Meeting health and safety regulations gives both individuals and professionals an assurance of security when using our ladder. It confirms that the ladder's design and performance have undergone rigorous testing to comply with a specific set of standards aimed at reducing accident risks. It also underscores the ladder's commitment to match, or even exceed, industry standards. This becomes particularly crucial for professionals or those working in settings where safety is paramount, such as construction sites, industrial zones, or laboratories.
Item Information
Lightweight and durable professional aluminium step ladder
4 tread folding model with strengthening beams and non-slip treads
Strong load capacity of 150kg
Anti-slip tread surface that is resistant to water, grease, and most chemicals
Non-slip rubber-covered feet
Adheres to the highest health and safety requirements
Overall dimensions of 1490(H) x 460(W) x 55(D) mm
Unit depth when expanded is 805mm
Ground to top step measures 935mm
Non-slip rubber-covered feet ensures the ladder will stay stable and prevent slipping

Customer Reviews
---
How do you rate this product? Guidance:
Please focus on the item itself. Your review will be most helpful if you include the specific reasons why you either liked or disliked the item.
Try to be concise and straight to the point - but avoid single-word reviews.
---

Free Next Day Delivery
At The Workplace Depot, we understand that time is precious, and getting your hands on the products you need as quickly as possible is essential. That's why we're thrilled to offer free, next working day delivery on our Aluminium Step Ladder to mainland Great Britain!
When you place your order before 3pm, we'll ship it out the same day, meaning you'll have your new ladder in your hands in no time at all. No waiting around for days on end or paying extra for express shipping - we've got you covered.
Going the Extra Mile for Our Customers
We pride ourselves on providing extraordinary customer support. We understand that when you're running a business, you don't have time to waste on subpar service. That's why we go above and beyond to make sure our customers are completely satisfied with their experience.
Our dedicated team is available to assist you Mon-Fri from 8am to 5pm, and they're always happy to help. Whether you have a question about one of our products, need help placing an order, or have an issue that needs to be resolved, our team is here to assist you. You can reach us via phone on 0800 0126777, and we'll be more than happy to help you out.


Your Satisfaction, Guaranteed
When you place your order with The Workplace Depot, you can rest easy knowing that you're getting a top-quality product backed by our 1 year parts and labour warranty. This means that if anything goes wrong with your product within the first year of ownership, we'll take care of it.
Our warranty shows our commitment to providing our customers with the best possible products and service. We stand behind the quality of our products and want you to feel confident in your purchase. With our warranty, you can trust that you're getting a product that's built to last and that we stand behind it.
Warranty
1 year parts / labour
Price Promise
We match any price
Easy Returns
Return or exchange