Warehouse Ladder
£444.12
Ex. VAT
£532.94
Inc. VAT
£532.94
Inc. VAT
£444.12
Ex. VAT
FREE DELIVERY
Free Delivery -
40-60 working days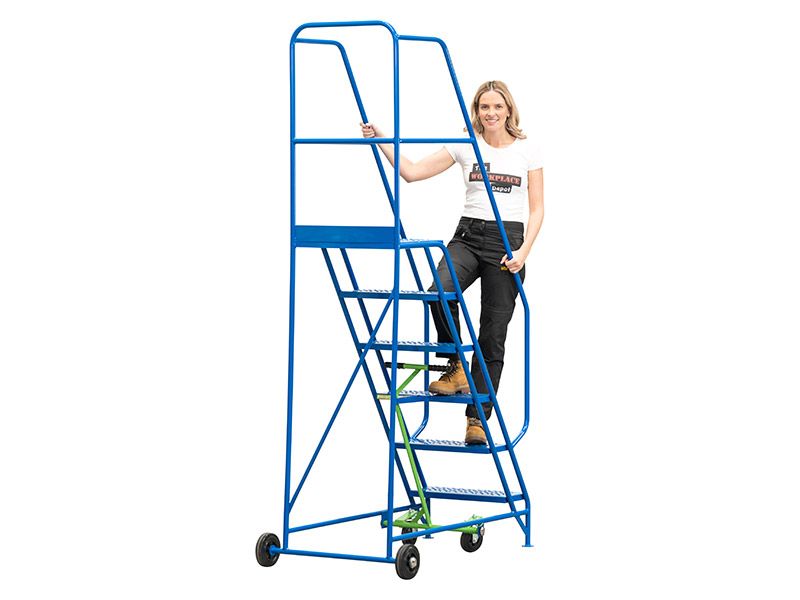 View All Safety Steps
Reach New Heights, Grounded in Trust
Elevate with Ease: Discover the Warehouse Ladder, the ultimate solution for safe and elevated work in industrial and retail settings, British-made for unwavering quality.
Strength in Structure: Engineered from rugged tubular steel and an all-welded frame, this ladder offers enduring stability for the most demanding tasks.
High-Level Access: Featuring a 1500mm high platform, this ladder extends your reach to a working height of approximately 3000mm, for superior access in any space.
Heavy-Duty Support: Confidently load up to 300kg on the platform, with rigorous load testing ensuring a secure and stable work environment.
Lock in Safety: A hand-operated mechanism provides a steadfast lock, ensuring your ladder remains securely in place while you work aloft.
Single-Handed Stability: Navigate upwards with confidence, thanks to handrails on either side for secure, one-handed access to your elevated tasks.
Designed for Drainage: Six punched steel treads permit water to pass through, offering slip-resistant and self-cleaning functionality for outdoor or wet environments.
Mobility Made Simple: Glide the ladder to any location with ease, courtesy of two integrated 200 x 50mm wheels designed for smooth, effortless movement.
Precise Proportions: Measuring 2500(H) x 850(W) x 1360(L) mm, this ladder is meticulously sized to offer both reach and reliability without compromising on space.

Redefining Elevated Safety
In the heart of British craftsmanship emerges a game-changer – the Warehouse Ladder. Engineered with precision, it seamlessly melds rugged durability with user-centric design, promising an unparalleled experience to its users. This ladder isn't just about reaching new heights; it's about doing so with uncompromised stability and confidence.
Understanding the multifaceted demands of modern workspaces, the Warehouse Ladder is more than a tool; it's a testament to safety, mobility, and versatility. Whether it's in bustling warehouses, meticulous factories, or hygiene-sensitive food settings, this ladder proves its mettle, setting a new benchmark for operational excellence.
The Backbone of the Warehouse Ladder
At the heart of the Warehouse Ladder lies its formidable construction—crafted from rugged tubular steel. This choice of material isn't by accident. It embodies strength, resilience, and a promise to withstand the test of time, ensuring that when you step onto the ladder, you're supported by a structure designed for durability and dependability.
But it's not just about the steel; the all-welded framework amplifies its sturdiness. Every joint, every connection, is meticulously welded, eliminating weak spots and providing uniform strength throughout. This welding technique not only enhances the ladder's longevity but also ensures safety, granting users the peace of mind they deserve when working at elevated heights.


Elevate Your Operations
One of the defining attributes of the Warehouse Ladder is its impressively designed 1500mm high platform. This elevated platform is not just about numbers; it translates into tangible benefits for users. With a remarkable reach, tasks that once seemed out of grasp are now within easy access, allowing workers to perform their duties more efficiently and with increased precision.
But the magic doesn't stop at the 1500mm mark. This height provision ensures a working elevation of approximately 3000mm, effectively doubling the user's operational range. Whether it's accessing high shelves in a warehouse or reaching the upper areas in a workshop, this height advantage streamlines tasks, minimising the need for constant repositioning and ensuring an unbroken workflow. With the Warehouse Ladder, the sky truly is the limit.

Overall Dimensions
| | | |
| --- | --- | --- |
| | OVERALL HEIGHT | 2500 mm |
| | OVERALL WIDTH | 850 mm |
| | OVERALL LENGTH | 1360 mm |
| | TREAD WIDTH | 550 mm |
| | PLATFORM HEIGHT | 1500 mm |
| | PLATFORM WIDTH | 550 mm |
| | PLATFORM LENGTH | 400 mm |
| | WEIGHT | 52 kg |
Built for the Heaviest Tasks
The essence of a ladder's reliability lies in its ability to bear weight securely, and the Warehouse Ladder stands as a testament to this principle. With a staggering load capacity that's been rigorously tested to accommodate up to 300kg on its platform, users are afforded the liberty to handle even the heaviest of tasks with unwavering confidence.
Such a robust weight capacity isn't just a number; it's a game-changer in operational scenarios. Whether loading hefty equipment, stacking bulky products, or managing weighty tools, this ladder supports it all, ensuring user safety without compromising efficiency. With the Warehouse Ladder, rest assured that strength and stability are always underfoot, ushering in a new era of dependable elevation.


Precision at Your Fingertips
Mobility is crucial, but so is stability. The Warehouse Ladder's hand-operated locking mechanism masterfully addresses this balance. A simple yet innovative feature, this mechanism allows users to secure the ladder swiftly, anchoring it firmly to the ground. This ensures that during those crucial moments of reaching, stretching, or leaning, the ladder remains unwaveringly stable, providing a steadfast foundation.
The significance of such a feature is manifold. Not only does it boost the user's confidence, knowing the ladder is locked in place, but it also significantly reduces the risk of accidents caused by inadvertent ladder movement. This hand-operated lock isn't just a mechanism; it's a commitment to ensuring every task, big or small, is executed with utmost safety and precision. With the Warehouse Ladder, security is literally in your hands.
Stability Within Arm's Reach
Every step taken on the Warehouse Ladder is a step enveloped in safety, and the hand rails on either side stand as pillars of this promise. Specifically designed for one-hand access, these rails offer an unwavering grip, ensuring that even when one hand is occupied — be it with a tool, product, or any item — the other has a reliable support to hold onto.
In the world of ladders, the journey upwards is as significant as the height attained. The presence of hand rails not only boosts the confidence of the user but also drastically reduces the likelihood of missteps or balance-related mishaps. Whether ascending or descending, having that additional touchpoint dramatically enhances stability and ensures a safer, more comfortable experience. With the Warehouse Ladder, every climb is a testament to thoughtfully designed security.


Engineering Against the Elements
At first glance, the six punched steel treads of the Warehouse Ladder might seem like a simple design aesthetic. However, they serve a pivotal, functional role, especially in environments where water or other liquids are prevalent. Expertly designed, these punched treads act as efficient drainage systems, ensuring that no water pools on the steps, which could otherwise compromise safety.
The significance of such a feature becomes evident in dynamic workplaces where spills or wet conditions are common, be it in a bustling warehouse, a rainy outdoor setting, or even certain food processing zones. By effectively channelling water away, these treads drastically reduce the risk of slip-related accidents, ensuring that even in challenging conditions, safety remains paramount. With the Warehouse Ladder, every detail, no matter how minute, is engineered with the user's well-being in mind.
Mobility Redefined
In the realm of industrial tools, mobility is not a luxury—it's a necessity. The Warehouse Ladder, cognisant of this demand, incorporates two robust 200 x 50mm wheels. These aren't just wheels; they are a testament to intelligent design, ensuring that relocating the ladder, even in expansive spaces, is as effortless as a gentle push or pull.
The beauty of these integrated wheels lies in the balance they strike between stability and motion. While the ladder promises unwavering steadiness when in use, these wheels ensure that transitioning between tasks or locations doesn't require undue exertion. For busy professionals who are constantly on the move, this feature is a game-changer, turning potential logistical challenges into smooth, seamless operations. The Warehouse Ladder proves that strength and agility can, indeed, coexist splendidly.

Item Information
Rugged tubular steel construction ensures lasting durability and strength.
All-welded framework amplifies structural integrity and safety.
Platform at 1500mm provides working height of approximately 3000mm.
Load-tested platform supports up to a remarkable 300kg weight.
Hand-operated mechanism locks the ladder securely in place.
Dual hand rails on either side allow convenient one-hand access.
Six punched steel treads facilitate efficient water drainage.
Integrated 200 x 50mm wheels offer superior mobility and ease.
Dimensions stand at 2500(H) x 850(W) x 1360(L) mm.
Steps endure up to 175kg, measuring 550mm edge-to-edge.
Non-slip feet assure stability on low-friction surfaces.
British-made, epitomising quality craftsmanship and local expertise.

Customer Reviews
---
How do you rate this product? Guidance:
Please focus on the item itself. Your review will be most helpful if you include the specific reasons why you either liked or disliked the item.
Try to be concise and straight to the point - but avoid single-word reviews.
---

Free Next Day Delivery
At The Workplace Depot, we understand the urgency of modern business needs. Our commitment isn't just to offer you the pinnacle of ladder design, but also to ensure that it reaches you in record time. Place your order before 3pm, and watch as we transform our promise into reality by delivering the Warehouse Ladder to your doorstep the very next working day.
Such speed isn't just about delivery; it's about valuing your time and your trust in us. Serving mainland Great Britain, we go the extra mile (quite literally) to ensure that your operations face no delays. With The Workplace Depot, you're not just purchasing a product, but also securing a promise of impeccable service and unwavering commitment.
Always At Your Service
When you engage with The Workplace Depot, you're not just another order number; you're part of our community, deserving of our full attention and support. With our dedicated helpline, 0800 0126777, we stand by, eager to assist, clarify, and guide. From Mon-Fri, 8am to 5pm, our team is primed to ensure your questions find answers and your concerns find resolutions.
Our steadfast dedication to exceptional customer support is what sets us apart. Whether it's a query about a product, an ongoing order, or just a simple clarification, our knowledgeable team ensures you're never left in the dark. With The Workplace Depot, you're always heard, always valued, and always taken care of—every time, without fail.


Our Warranty, Your Peace of Mind
Choosing The Workplace Depot means investing not just in a product, but in a partnership that prioritises your peace of mind. We're so confident in the quality and durability of our offerings that every purchase comes backed by a robust 1-year parts and labour warranty. It's our way of saying that we stand by our products, and more importantly, by you.
In the unlikely event of an issue, our warranty ensures that you're not alone. Beyond the assurance of top-tier products, it's the safety net of our trustworthy warranty that truly sets us apart. With The Workplace Depot, every purchase is a pact—a commitment to excellence, durability, and your absolute satisfaction.
Warranty
1 year parts / labour
Price Promise
We match any price
Easy Returns
Return or exchange