Safety Ladders
£853.12
Ex. VAT
£1,023.74
Inc. VAT
£1,023.74
Inc. VAT
£853.12
Ex. VAT
FREE DELIVERY
Free Delivery -
40-60 working days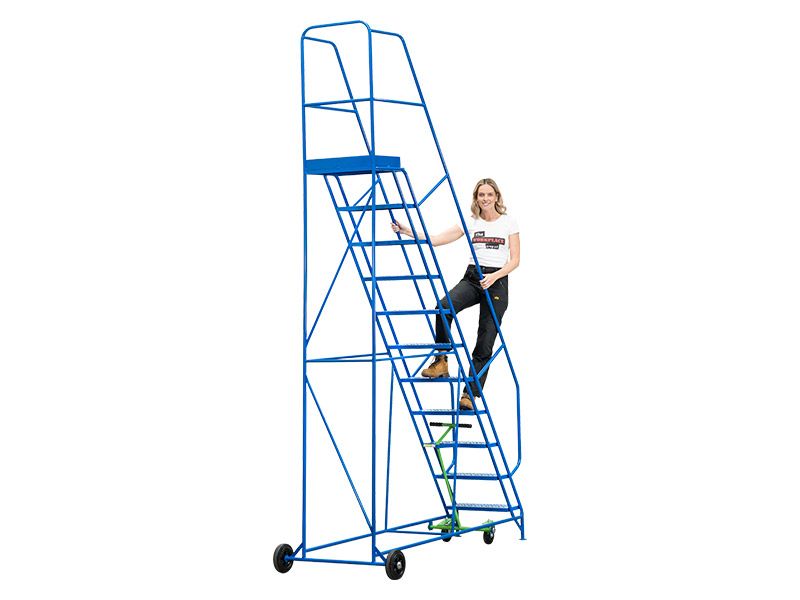 View All Safety Steps
The Apex of Stability Meets the Zenith of Mobility
Elevate Your Standards: Discover the Safety Ladders, a robust solution designed for superior access and work safety in a multitude of environments.
Steel Strength Assured: Engineered from rugged tubular steel and an all-welded framework, guaranteeing durability and a long service life for rigorous use.
Reach New Heights: Featuring a 2750mm high platform, this ladder extends your working height to approximately 4250mm, expanding your range of safe accessibility.
Heavy-Duty Performance: With a load capacity tested to 300kg, the platform accommodates heavy equipment and rigorous tasks with uncompromised stability.
Locked-in Safety: A hand-operated locking mechanism solidifies the ladder's position, offering security and steadiness during every use.
Secure One-Handed Climb: Safety Ladders come with handrails on both sides, allowing for secure, one-handed ascents and descents, enhancing user confidence.
Step Safely in All Weathers: Eleven punched steel treads promote water drainage, providing reliable traction in varying conditions, keeping each step secure.
Mobility Made Easy: Relocate with ease thanks to two integrated 200 x 50mm wheels, ensuring smooth transit across workspaces without the need for heavy lifting.
Perfect Proportions: Dimensionally designed at 3750(H) x 1000(W) x 2070(L) mm, the ladder is an ideal fit for diverse work environments, ensuring it is always part of the solution.

The Ultimate in Secure Step Ladders
Introducing the Safety Ladders, a paradigm of British craftsmanship blending durability with unparalleled safety. Born from meticulous design and expert engineering, this ladder isn't just about reaching heights; it's about reaching them with confidence and assurance.
Beyond its sturdy structure, the Safety Ladders promise mobility, versatility, and hygiene. Whether manoeuvring in a bustling factory, relocating within a retail space, or ensuring cleanliness in food industries, it stands as a testament to what every step ladder should aspire to be. Elevate your expectations and step up with Safety Ladders.
The Backbone of the Safety Ladders
At the heart of the Safety Ladders lies its exceptional construction: rugged tubular steel. This material choice isn't accidental. It's selected for its undeniable strength and resilience, ensuring that every time you step up, you're supported by a framework that's built to last and designed to protect.
But it's not just about the steel; it's how it comes together. The all-welded framework stands as a testament to meticulous craftsmanship and thoughtful engineering. This cohesive, weld-integrated structure ensures fewer weak points, optimising stability, and instilling a sense of trust for users. When you choose the Safety Ladders, you're choosing unparalleled structural integrity in every climb.


Reaching New Heights
Within the design of the Safety Ladders lies a towering triumph: a 2750mm high platform. This elevated feature is purposefully conceived to cater to tasks that demand that extra reach, ensuring users can comfortably and safely engage with their environment at a working height of approximately 4250mm.
Beyond mere measurements, this platform height translates to tangible advantages on the ground. Whether it's accessing lofty shelves in warehouses, reaching overhead fixtures in retail spaces, or attending to elevated machinery in workshops, the Safety Ladders provide a vantage point that's both secure and efficient. Every climb becomes an ascent to a superior workspace, where tasks are within reach and safety is paramount.

Overall Dimensions
| | | |
| --- | --- | --- |
| | OVERALL HEIGHT | 3750 mm |
| | OVERALL WIDTH | 1000 mm |
| | OVERALL LENGTH | 2070 mm |
| | TREAD WIDTH | 550 mm |
| | PLATFORM HEIGHT | 2750 mm |
| | PLATFORM WIDTH | 550 mm |
| | PLATFORM LENGTH | 400 mm |
| | WEIGHT | 82 kg |
A Platform Built for Burden
One of the crowning glories of the Safety Ladders is its formidable load-bearing capacity. Not just a step ladder to ascend, it's a robust platform engineered to support a staggering weight of up to 300kg. This isn't merely a figure but a testament to the ladder's commitment to users, ensuring that both they and their essentials are firmly supported.
The implications of such a robust weight tolerance are vast. Whether it's heavy tools, hefty machinery parts, or sizeable stock items, professionals can work with confidence, knowing the ladder has their back. This ensures fewer trips up and down, increased efficiency, and most crucially, the safety of knowing that the platform will not falter under pressure. The Safety Ladders stand as a beacon of strength in a world of tasks that demand nothing less.


Stability at Your Fingertips
In the realm of elevated tasks, stability isn't just a feature; it's a necessity. The Safety Ladders, understanding this pivotal need, come equipped with a hand-operated mechanism designed explicitly to lock the unit firmly in place. This mechanism isn't just about function—it's about granting peace of mind with each step you take.
This hand-operated lock serves as a guardian against unwanted movements and wobbles. It ensures that once positioned, the ladder stays rooted, providing a steadfast platform for all tasks at hand. Whether you're reaching for items on a high shelf or working on intricate tasks aloft, this locking feature translates to a workspace where focus remains on the task and not on maintaining balance. With Safety Ladders, stability is always within arm's reach.
Rails That Guide and Guard
Elevation, while advantageous, often comes with a need for added assurance. Recognising this, the Safety Ladders go the extra mile by equipping themselves with handrails on both sides. More than just metal extensions, these rails serve as steadfast companions, ensuring that users always have a handhold to rely upon.
The beauty of these handrails isn't just in their presence, but in their function: they allow for one-hand access. This feature proves invaluable in scenarios where the other hand is occupied – be it with tools, materials, or documentation. It ensures that the climber isn't just ascending, but ascending with assurance. In a workspace where every second counts, these handrails redefine efficiency, safety, and ease-of-use. With Safety Ladders, you're not just stepping up; you're held every step of the way.


Treads That Tackle the Tricky
At the feet of the Safety Ladders, you'll find a thoughtful design addition: eleven punched steel treads. While they may seem just like textured steps at first glance, they're meticulously designed to combat a common foe of many work environments - water accumulation.
Water, especially in environments like factories, warehouses, or outdoors, can pose a significant slip hazard. The punched design of these treads facilitates swift water drainage, ensuring that the ladder's surface remains as slip-free as possible, even in damp conditions. This means reduced downtime after cleaning or after a downpour, and more importantly, an added layer of safety for users. With the Safety Ladders, steps are not just about ascent; they're about assurance in all conditions.
Mobility Mastered
Hidden within the robust framework of the Safety Ladders are two integrated wonders: 200 x 50mm wheels. While the ladder itself stands as a monument of stability, these wheels are a testament to the product's commitment to dynamic workspaces, bringing a touch of nimbleness to a typically static tool.
These wheels, thoughtfully sized and strategically positioned, facilitate hassle-free movement. Relocating your ladder, be it across vast warehouses or between tight aisles, becomes a seamless task. No more heavy lifting or cumbersome dragging; with these wheels, the Safety Ladders move as swiftly as your tasks demand. Mobility isn't just about movement; with the Safety Ladders, it's about moving forward with efficiency and ease.

Item Information
Constructed from rugged tubular steel; durable all-welded framework.
Platform height: 2750mm; working height approximately 4250mm.
Load capacity: 300kg on platform; robust support ensured.
Hand-operated mechanism; locks unit firmly in place.
Dual handrails; facilitates secure one-hand access.
Eleven punched steel treads; designed for efficient water drainage.
Mobile design; two integrated 200 x 50mm wheels for easy movement.
Dimensions: 3750(H) x 1000(W) x 2070(L) mm; spacious yet compact.
Weight capacity: 175kg per step; sturdy and reliable.
Step size: 550mm edge to edge; ample space for footing.
Non-slip feet; reliable even on low-friction surfaces.
Hygienic design; suitable for steam cleaning and pressure washing.

Customer Reviews
---
How do you rate this product? Guidance:
Please focus on the item itself. Your review will be most helpful if you include the specific reasons why you either liked or disliked the item.
Try to be concise and straight to the point - but avoid single-word reviews.
---

Free Next Day Delivery
At The Workplace Depot, we don't just believe in delivering top-notch products like the Safety Ladders, but also in delivering them with unmatched speed. Order your Safety Ladders before 3pm, and experience the luxury of waking up to its arrival the very next working day. Mainland Great Britain, we've got your back, ensuring your workspace is elevated both in safety and efficiency without a moment's delay.
Our commitment goes beyond providing quality; it's about valuing your time. Every minute in a workspace counts, and with our free, next-day delivery promise, we ensure that you're not just equipped with the best but that you're equipped promptly. Dive into the future of workplace safety and efficiency with The Workplace Depot, and watch as we turn your today's choice into tomorrow's triumph.
Always At Your Service
At The Workplace Depot, our commitment to our patrons extends far beyond our premium products. We believe in building relationships, and that's where our dedicated phone line, 0800 0126777, comes into play. Reach out to us anytime from 8am to 5pm, Monday to Friday, and you'll find not just a representative, but a devoted team eager to assist, advise, and ensure your needs are addressed promptly and professionally.
Every call we receive is a testament to our bond with our customers. It's not just about resolving queries; it's about lending an ear, understanding concerns, and solidifying the trust you've placed in us. So, whether you have a question, a suggestion, or just want to chat about our products, remember, The Workplace Depot is just a dial away – every customer, every time.


Our Warranty, Your Peace of Mind
When you choose The Workplace Depot, you're not just selecting a product; you're embracing a promise. Each purchase is accompanied by our solid 1-year parts and labour warranty, a tangible testament to our unwavering confidence in the quality of our offerings. This isn't merely a warranty; it's our pledge to stand by you, ensuring your investment is protected, and any hiccup is addressed swiftly.
Our customers deserve the best, both in product and after-sales care. This warranty is our way of reiterating that commitment. It's an assurance that, while we strive for perfection, should there be any rare oversight, we're here, ready to make it right. With The Workplace Depot, you're not just buying a product; you're investing in a bond of trust, sealed with our year-long warranty guarantee.
Warranty
1 year parts / labour
Price Promise
We match any price
Easy Returns
Return or exchange