Rolling Warehouse Stairs
£641.60
Ex. VAT
£769.92
Inc. VAT
£769.92
Inc. VAT
£641.60
Ex. VAT
FREE DELIVERY
Free Delivery -
40-60 working days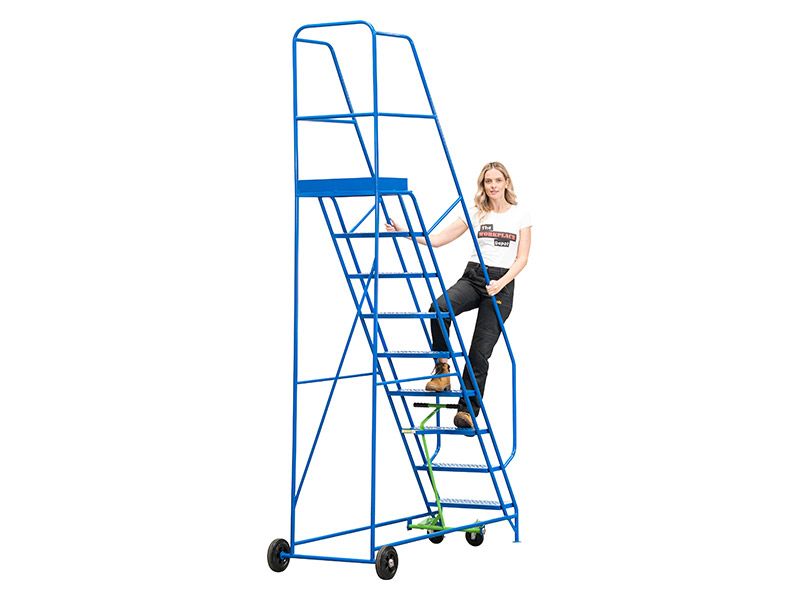 View All Safety Steps
British Built, Safety Sealed
Elevated Work Made Easy: Discover the Rolling Warehouse Stairs, the ultimate solution for secure and versatile high-reach tasks in any industrial setting.
Robust Build, Reliable Use: Constructed from rugged tubular steel with an all-welded framework, ensuring lasting durability in demanding environments.
Reach New Heights Safely: The 2250mm high platform offers a substantial working height of 3750mm, bringing even the most challenging tasks within easy reach.
Strength You Can Trust: Load tested to a robust 300kg on the platform, these stairs are built to support heavy weights with unwavering stability.
Lock in Safety: Features a hand-operated mechanism to lock the unit securely in place, providing stable and worry-free use every time.
Handrail Support: Navigate upwards with confidence, equipped with handrails on either side for one-hand access, ensuring safety as you ascend and descend.
Tread with Care: Nine punched steel treads permit water drainage, reducing slip hazards and increasing traction in all working conditions.
Smooth Mobility: Fitted with two robust 200 x 50mm wheels, these stairs are effortlessly mobile, making relocation a breeze across various surfaces.
Spacious and Secure: Measuring 3250(H) x 850(W) x 1730(L) mm, the Rolling Warehouse Stairs offer a spacious platform and steps for secure, comfortable access.

Elevate Safety with British Ingenuity
Step into a world where durability meets design. The Rolling Warehouse Stairs, meticulously crafted in the heart of Britain, represents the culmination of robust engineering and an unwavering commitment to safety. Rooted in rugged tubular steel construction, this ladder isn't just a tool—it's a testament to excellence in every weld and rail.
The platform stands tall at 2250mm, ushering in unparalleled stability and a generous working height of approximately 3750mm. Beyond its structural prowess, it guarantees ease of mobility, comprehensive safety features, and easy maintenance—a seamless blend of function and finesse tailored for the modern workspace. Elevate your standards; embrace the best in British craftsmanship.
The All-Welded Framework Advantage
In the realm of industrial equipment, the materials and construction methods chosen are paramount. The Rolling Warehouse Stairs are constructed from rugged tubular steel—a material synonymous with resilience and endurance. This isn't mere steel; it's a promise of durability, engineered to bear weight and withstand demanding work environments with aplomb.
Yet, it's the all-welded framework that truly sets this ladder apart. Every joint, every connection, and every intersection is meticulously welded, offering unparalleled structural integrity. This welding fortifies the ladder, ensuring that each climb is secure and every task is supported by a foundation that won't waver. Dive into an experience where safety and steadfastness go hand in hand.


Reach New Heights
The true essence of a ladder lies in its ability to provide users with a safe and effective means to access elevated spaces. The Rolling Warehouse Stairs, boasting a 2250mm high platform, ensures just that. This meticulously designed height ensures that users can work comfortably, granting them access to spaces previously out of reach without compromising on safety or convenience.
Yet, the magic truly unfolds when you understand that this platform translates to an approximate working height of 3750mm. This means users can comfortably and safely reach even higher, extending their capabilities and versatility in a variety of workspaces. It's not just about reaching higher; it's about doing so with confidence, stability, and the backing of trusted engineering.

Overall Dimensions
| | | |
| --- | --- | --- |
| | OVERALL HEIGHT | 3250 mm |
| | OVERALL WIDTH | 850 mm |
| | OVERALL LENGTH | 1730 mm |
| | TREAD WIDTH | 550 mm |
| | PLATFORM HEIGHT | 2250 mm |
| | PLATFORM WIDTH | 550 mm |
| | PLATFORM LENGTH | 400 mm |
| | WEIGHT | 77 kg |
Bear the Burden
The foundation of any reliable ladder is its ability to bear weight confidently. With the Rolling Warehouse Stairs, there's no second-guessing. Engineered with precision and backed by rigorous testing, the platform proudly boasts a load capacity tested to a substantial 300kg. This isn't just a number; it's a commitment to robustness, ensuring that your heaviest tasks are supported with unwavering stability.
Such a remarkable weight capacity opens doors to myriad applications and utilities. Whether it's heavy tools, bulk materials, or multiple workers, the platform stands resilient. This feature underscores a promise: that every ascent is bolstered by a structure that understands and respects the demands of the modern workspace. In choosing the Rolling Warehouse Stairs, you're not just selecting a ladder, but a partner ready to shoulder the weight of any task.


The Hand-Operated Locking Advantage
In the world of ladders and elevated platforms, stability isn't just a feature – it's a necessity. The Rolling Warehouse Stairs are equipped with a hand-operated mechanism that prioritises this very aspect. At the simple turn of a handle, this mechanism ensures the entire unit is anchored securely, providing users with the peace of mind that the platform remains steadfast during any task.
This hand-operated locking system signifies more than just physical stability; it stands as a testament to the thought and care embedded in the design process. By offering an intuitive, hand-operated solution, users can effortlessly ensure their safety without fumbling through complex setups. It's a perfect blend of user-friendliness and utmost security, ensuring that every step you take is on solid ground.
Dual Hand Rails for Assured Access
Ascend with assurance. The Rolling Warehouse Stairs stand out with hand rails meticulously positioned on either side, ensuring that users have a steadfast grip every step of the way. These rails are not just an addition; they're a lifeline, promoting both balance and confidence, allowing users to navigate heights with an added layer of security.
The true brilliance lies in the provision for one-hand access. Whether carrying tools, documents, or just needing the reassurance of a stable grip, this feature is a game-changer. It empowers workers to multitask without compromising on safety. With every climb, feel the reinforced confidence these rails provide, understanding that your safety is always in your hands.


Engineered for Optimal Water Drainage
In many work environments, water spillage and liquid hazards are inevitable. Recognising this, the Rolling Warehouse Stairs have been innovatively designed with nine punched steel treads, ensuring that water drainage is not just an afterthought, but a central feature. These precisely engineered treads act as a safeguard against pooling and potential slipping hazards, ensuring that every step remains dry and secure.
But the significance of these treads extends beyond mere functionality. They represent a commitment to worker safety, ensuring that even in the most challenging of wet conditions, stability is uncompromised. Whether faced with accidental spillages or environmental factors, these treads ensure that the Rolling Warehouse Stairs provide a secure footing, instilling confidence with each ascent and descent.
Roll with Ease
In dynamic work environments, adaptability is key. Recognising this need for fluidity, the Rolling Warehouse Stairs come equipped with two robust 200 x 50mm wheels, ensuring that repositioning the ladder isn't a cumbersome chore but a smooth transition. Crafted for convenience, these wheels allow for effortless manoeuvrability, making relocation a breeze regardless of the ladder's imposing stature.
Yet, these wheels are not just about movement; they signify a balance between stability and agility. While the ladder provides a rock-solid platform when in use, the integrated wheels ensure that when it's time to move, no time is wasted. Whether navigating tight workshop spaces or expansive warehouses, with these wheels, you're always ready to roll right where you're needed most.

Item Information
Rugged tubular steel construction ensures lasting durability and strength.
High platform at 2250mm offers working height of approximately 3750mm.
Platform confidently load tested up to a weighty 300kg.
Hand-operated locking mechanism firmly anchors the ladder in place.
Side hand rails support secure one-hand access and stability.
Nine punched steel treads designed specifically for optimal water drainage.
Mobility assured with two integrated 200 x 50mm wheels.
Dimensions: 3250(H) x 850(W) x 1730(L) mm for comprehensive coverage.
Each step supports a maximum weight of up to 175kg.
Step size measures a generous 550mm edge to edge.

Customer Reviews
---
How do you rate this product? Guidance:
Please focus on the item itself. Your review will be most helpful if you include the specific reasons why you either liked or disliked the item.
Try to be concise and straight to the point - but avoid single-word reviews.
---

Free Next Day Delivery
At The Workplace Depot, we understand the urgency of equipping your workspace with the best. That's why we're delighted to offer free, next working day delivery for the Rolling Warehouse Stairs. Make your order before 3pm, and experience the luxury of seeing your product arrive at your doorstep the very next day.
Our commitment is not just to quality products but to unparalleled service. We want to ensure that your projects face no delays and your operations remain uninterrupted. So, when you choose the Rolling Warehouse Stairs, rest assured, they'll roll into your premises swiftly and efficiently. Make a confident purchase today and watch us deliver on our promise tomorrow!
Always At Your Service
At The Workplace Depot, we believe that exceptional products deserve equally exceptional support. This is precisely why our dedicated phone line, 0800 0126777, stands ready to assist you, every weekday from 8am to 5pm. Whether you have a question, need guidance on a product, or simply want to chat about your requirements, we're here, eager to listen and help.
Our commitment goes beyond selling quality products; it's about building lasting relationships. When you dial our number, you're not just reaching out to a company; you're connecting with a team that genuinely cares. Because at The Workplace Depot, every call is an opportunity to serve you better, ensuring you feel valued, understood, and supported, every time.


Our Warranty, Your Peace of Mind
In the bustling world of online shopping, The Workplace Depot emerges as more than just a product provider; we are your partners in assurance. When you invest in our offerings, you're not just getting a superior product; you're also securing a 1-year parts and labour warranty. This warranty is our commitment to you, symbolising our unwavering confidence in the quality and durability of what we sell.
Every purchase with us is a step into a world of trusted reliability. While our products are designed for excellence, our warranty is sculpted to offer you a safety net. It's not just about fixing a potential hiccup—it's about knowing that for an entire year, we've got your back. With The Workplace Depot, you're shopping for quality, confidence, and, most importantly, peace of mind.
Warranty
1 year parts / labour
Price Promise
We match any price
Easy Returns
Return or exchange