PPE Cupboard
Free Delivery -
Next Working Day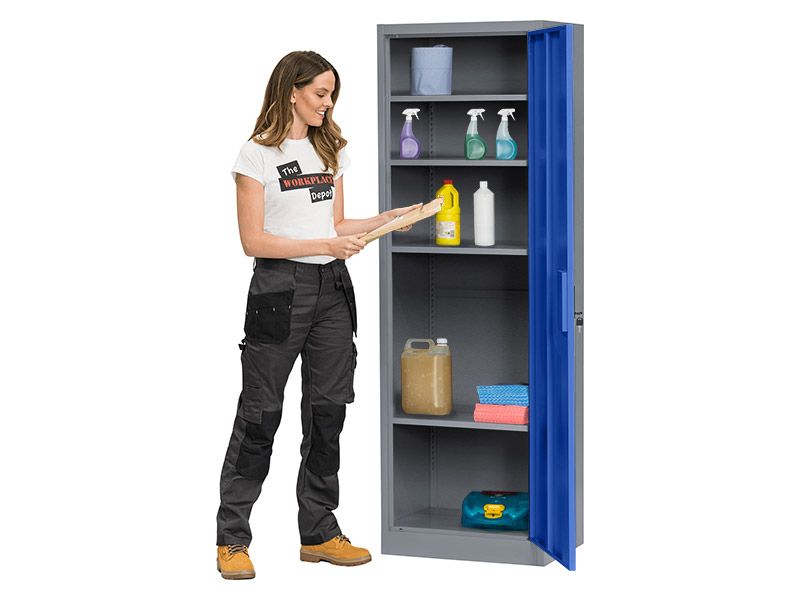 View All Metal Storage Cabinets
Safety Stored, Style Showcased
Superior Storage Solution: Keep your PPE secure and organised with a cupboard designed for industrial strength and ease of use in any professional setting.
Robust Build Quality: Engineered from durable steel and finished with a sleek powder coat, this cupboard is designed to last in harsh environments.
Adjustable Storage: Featuring four heavy-duty shelves that adjust in height, it offers versatile storage solutions for equipment of varying sizes.
Impenetrable Security: With doors that resist vandalism and warping, your protective gear is safeguarded against damage and unauthorised access.
Lock-Tight Safety: The multi-point locking system ensures contents are secure, providing peace of mind with mastered locks for controlled access.
Clear Identification: Outfitted with eye-catching 'Personal Protective Equipment' labelling, the cupboard ensures immediate recognition and compliance.
Sturdy Construction: A hardy welded frame offers superior stability and long-term durability, standing up to the rigours of daily use with ease.
Assembly Made Simple: Designed with the user in mind, this cupboard features a hassle-free assembly process, so it's ready for use without delay.
Spacious & Compact: Measuring 1850(H) x 660(W) x 450(D) mm, it provides ample storage while maintaining a footprint that conserves workspace.

Safeguarding Excellence
In today's fast-paced environments, the need for secure, efficient storage solutions has never been greater. Enter the PPE Cupboard, a perfect fusion of industrial-grade robustness and contemporary design. Crafted meticulously from stalwart steel and accented with a sleek powder coat finish, it promises not just durability but an aesthetic appeal that complements any space.
Beyond its striking exterior, the PPE Cupboard's core strength lies in its ingenious functionalities. With adjustable shelves and a reinforced door system, it stands as a beacon of security and adaptability. Whether you're a bustling hospital, a thriving university, or a dynamic warehouse, this cupboard ensures that your safety equipment remains both protected and easily accessible, ushering in a new era of organised efficiency.
Strength Meets Elegance
At the heart of the PPE Cupboard's resilience is its construction from robust steel, a material renowned for its unmatched strength and durability. This choice ensures that the cupboard stands steadfast against daily wear and tear, promising years of unwavering service even in the most demanding of environments.
Yet, strength doesn't come at the expense of style. The steel is meticulously treated with a powder coat finish, adding not only an extra layer of protection against corrosion and scratches but also bestowing it with a sleek, modern aesthetic. This finish elevates the cupboard from a mere storage utility to a statement piece, marrying functionality with visual appeal in perfect harmony.


Flexibility at Its Finest
At the core of the PPE Cupboard's adaptability is its set of four height-adjustable shelves, designed with user-centricity in mind. Recognising that storage needs evolve and vary, these shelves can be easily tailored to accommodate equipment of differing sizes, making sure every inch of the cupboard is optimally utilised.
More than just adjustable, these shelves are engineered to be heavy-duty, confidently bearing the weight of essential PPE equipment without a hint of strain. Such a design not only maximises storage potential but also assures users of the cupboard's capability to handle substantial loads with ease. In essence, it's a promise of effortless adaptability, meeting the dynamic demands of any professional setting.

Overall Dimensions
| | | |
| --- | --- | --- |
| | OVERALL HEIGHT | 1850 mm |
| | OVERALL DEPTH | 450 mm |
| | INTERNAL DEPTH | 425 mm |
| | OVERALL WIDTH | 600 mm |
| | INTERNAL WIDTH | 510 mm |
| | METAL THICKNESS | 1 mm |
| | WEIGHT | 31.2 kg |
Fortified Access
One of the PPE Cupboard's standout features is its reinforced doors, meticulously designed to ensure utmost protection. In environments where safety and security are paramount, these doors offer a formidable barrier, safeguarding valuable equipment from unwarranted access and potential mishaps.
But the commitment to protection doesn't stop at mere reinforcement. These doors are adeptly crafted to be both vandal and warp-resistant. Whether facing intentional tampering or natural fluctuations in temperature and humidity, they remain steadfast and true to shape. In the world of storage solutions, where the integrity of the enclosure is crucial, the PPE Cupboard's doors stand as a testament to superior craftsmanship and thought-out design.


Unyielding Security
In the realm of storage, the security of one's valuables is paramount. The PPE Cupboard embraces this truth with its multi-point locking system, an embodiment of advanced security measures. This system ensures that the doors are locked at multiple points, forming a shield that effectively deters unauthorised access and potential security breaches.
The brilliance of this feature is further accentuated with the incorporation of mastered locks. Offering a unique combination of convenience and heightened protection, these locks allow for a singular key to operate multiple lock points, ensuring ease of access for authorised personnel while maintaining an uncompromised level of security. With the PPE Cupboard, peace of mind isn't just an afterthought; it's an integral design principle.
Signposting Safety with Precision
In spaces bustling with equipment and tools, clear identification isn't a luxury—it's a necessity. The PPE Cupboard acknowledges this pivotal need by being supplied with 'Personal Protective Equipment' Exclamation Mark labelling. This deliberate addition ensures that, even in the most hectic of environments, locating your safety equipment becomes an effortless task.
But it's not just about convenience. This labelling serves a deeper purpose: emphasising the significance of safety and the items stored within. By clearly signposting the contents, it underscores the value of personal protection, fostering a culture where safety is always front and centre. With the PPE Cupboard, clarity and caution work hand in hand, heralding a safer and more organised workspace.


Unwavering Stability
The true backbone of the PPE Cupboard lies in its hardy welded frame architecture, a testament to structural excellence. Welded frames, renowned for their integral strength, offer a seamless construction that ensures there are no weak points. This ensures that the cupboard stands robustly, undeterred by external pressures or heavy loads placed within.
Beyond sheer durability, this method of construction has another advantage: longevity. Welded frames inherently resist wear and tear better than their counterparts, ensuring that the PPE Cupboard remains a lasting fixture in any setting. By investing in such a design, one is not just acquiring a storage solution, but a long-term ally in organisation and safety.
Streamlined Simplicity
The PPE Cupboard isn't just about providing top-tier storage; it's about ensuring the journey from box to assembled product is seamless. With a user-friendly design at its core, setting up this cupboard is a straightforward affair, devoid of any intricate procedures or puzzling parts. The emphasis is on saving time, allowing users to transition from unpacking to utilising in record time.
Such a design ethos serves a dual purpose. For one, it lowers the barrier of entry, making the PPE Cupboard an ideal choice for those who might be daunted by complex assembly processes. Moreover, it underlines the brand's commitment to user convenience, demonstrating that every aspect, from core features to assembly, is crafted with the end-user in mind. In the realm of storage solutions, where ease of use is paramount, the PPE Cupboard shines brilliantly.

Item Information
Constructed from robust steel, ensuring durability and longevity.
Features powder coat finish, enhancing resistance and aesthetics.
Dimensions: 1850(H) x 600(W) x 450(D) mm, optimal for diverse spaces.
Equipped with four height-adjustable, heavy-duty shelves for versatile storage.
Doors reinforced, resistant to vandalism and warping for added security.
Multi-point locking system, mastered locks, two keys provided.
Distinct 'Personal Protective Equipment' Exclamation Mark labelling
Hardy welded frame architecture, ensuring stable and long-lasting use.
Light grey frame complemented by bright blue doors, stylishly designed.
Shelves support up to 35kg UDL, accommodating substantial loads easily.

Customer Reviews
---
How do you rate this product? Guidance:
Please focus on the item itself. Your review will be most helpful if you include the specific reasons why you either liked or disliked the item.
Try to be concise and straight to the point - but avoid single-word reviews.
---

Free Next Day Delivery
At The Workplace Depot, we understand the rhythm of modern business. When you invest in a product like the PPE Cupboard, you want it swiftly, without compromise. That's why, for orders placed before 3pm, we're not just offering delivery - we're promising next working day arrival to mainland Great Britain. No tedious waits, no drawn-out delivery periods, just prompt service tailored for today's fast-paced world.
Every moment counts, and our commitment to rapid delivery reflects this urgency. It's a luxurious convenience, allowing our customers to experience the tangible benefits of their purchase almost immediately. So, when you choose the PPE Cupboard, you're not just acquiring top-tier storage—you're also embracing unparalleled delivery speeds, all at no extra charge. Make your selection with confidence, and let us bring excellence to your doorstep.
Always At Your Service
In the digital landscape of The Workplace Depot, our customers are never just order numbers or faceless transactions. Behind every purchase is a story, a need, and we're here to ensure that story is heard and that need is met. With our dedicated phone line, 0800 0126777, operational from 8am to 5pm, Monday to Friday, we've set the stage for genuine, human interactions that translate into unmatched customer support.
More than just a helpline, this is our pledge to stand by you, guiding, assisting, and resolving, no matter the query. Every call reaffirms our unwavering dedication to excellence in service. Whether you're seeking product advice, delivery information, or just a friendly voice to clarify a doubt, trust in our team's eagerness and capability to assist you. With The Workplace Depot, you're never navigating alone; we're on this journey with you, every step of the way.


Beyond the Buy
When you choose The Workplace Depot, you're not just selecting a product; you're embracing an entire ecosystem of trust and assurance. Each purchase is accompanied by our generous 1-year parts and labour warranty, a testament to our confidence in the quality of our offerings and our commitment to your satisfaction.
This warranty isn't merely a promise; it's a tangible reflection of our dedication to stand by you long after the transaction is complete. While our products are designed for durability and excellence, we understand the importance of peace of mind. That's why our warranty is there, acting as a protective layer, ensuring that in the rare event of an unforeseen issue, you're covered, supported, and valued. Shop with the knowledge that at The Workplace Depot, we offer not just top-tier items but a year of unwavering support to go with them.
Warranty
1 year parts / labour
Price Promise
We match any price
Easy Returns
Return or exchange