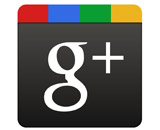 The biggest problem I have with Google+ is that hardly anyone I know uses it, yet in March it was reported that are now 343 million active Google+ users. This is about a third of the number that use Facebook and Google+ is currently growing at many times the rate of its rival. Facebook's first mover advantage is starting to weaken in the face of competition from a much better product.
The received wisdom of large portions of the media is that Google+ is a failure. This myth continues even though it has become the second largest social media platform! (1). What commentators have failed to highlight is that Google+ is not really Google's version of Facebook – actually the clue is in the name, Google 'Plus'. With no offence intended to the great city of Hull, Facebook is like Hull – no one goes to Hull unless you planned to go to Hull. On the other hand, Google+ is more like London – you go there not just because it is London, but because it is the gateway to so many other things and places. Google+ integrates with Google Search, Chrome, Andorid, Gmail, Maps, Apps, Docs, Play, Drive... the list goes on. You don't have to leave the comfort of your Google armchair to do some social networking!
So apart from Google integration what else does Google+ offer that beats Facebook...
Google+ Circles
Most people updating their Facebook status just blast it out to everyone they know, whereas the first thing that you notice in Google+ is that you can group people into circles using a simple drag and drop. There are subtle differences between friends, acquaintances, work colleagues, family, professional groups or any pigeon holes that you want to put people in. 'Circles' makes it easy to share posts, pictures and other media just with those people you want to see it. On the subject of pictures, Google+ turns off photo tagging by default for the benefit of those fed up of their picture being tagged in photos alongside people you don't know – good luck with those privacy options in Facebook!
Google+ Communities
This feature allows groups to form around interests, so you can interact with other people with similar interests or even customers or 'influencers'. In a couple of the groups that I've joined, there has been much more camaraderie with other users then you get on Facebook. One of the reasons I'm bored with Facebook is that if you want to be noticed then you basically need to mention one of the 3 c/ks -cakes, kids, cats or throw in some sort of guru quote. I should mention that for those who thrive on the need for approval via being 'liked' that Google+ has a copy, err I mean the equivalent, in the +1 button.
Hangout
As someone who in the past spend considerable time and money sweating over organising webinars, it is great to see a sort of 'webinar lite' in the 'hangout' feature. The group video chatting is miles ahead of Facebook... you don't need to do loads of planning to start one, just click on the 'start a hangout' button and anyone you've let see the update can join in on a whim – it's as easy as saying the word 'Skype'.
Privacy and user data
This is actually taken seriously as explained in the excellent and 'must see' video called the data liberation front. The data tool allows you, in just a few swift clicks, to completely remove all your personal data from the website.
Search Quality
As this is Google, it's not too much of a surprise that searching for people, posts and businesses is quick and reliable. Because of features like communities and circles there is not as much 'noise' as on Facebook - you can simply filter out people, groups or poor content that you're not interested in.
Web or blog owners
I feel the phrase 'no brainer' needs to be used here. If you have a website or blog you can include it in your Google+ profile (which has a follow backlink) as well as making a 'business' page. These are included in Google search results which will bump you up the rankings especially if combined with Google maps, local reviews etc It is starting to be the case that if you are a blogger or small business you need to be using Google+. If you are using it for this or the many other Google services then the chances are you will tell others people to use it and user base will continue to grow.
Trending on Google+
Similar to the trending feature on Twitter, this allows you to see the most popular trending topics being discussed in real time. Perhaps Twitter needs to worry about Google+ as much as Facebook!
Google Music
If you use Google Music - Google's cloud-based music service - you can share full songs with other Google+ users
Overall Google+ is easy to use and if you do get stuck then there is a virtual training tour than you can call upon to teach you how everything works. Google+ is still evolving and will only get better as it gets more users.
Create a Google+ account and feel free to add some of the Workplace Depot team to your circles as well as giving our business page a '+1'
Richard Bloomfield
Jess Phillips
Matt Janaway
Sean Alder
--------------------
(1) https://www.globalwebindex.net/blog/google-in-depth
---
Posted in News, Expert Commentary