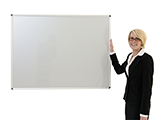 Being involved in my fair share of meetings, I can truly say that you can't beat a classic.  No matter how much technology comes out, nothing can replace the trusted Whiteboard in these situations.  Tablets and Smartboards are being rolled out nearly everywhere these days, but I believe that you still need a Whiteboard in your workplace boardroom.
The ease of scribbling notes and diagrams onto the board for everybody to see is just simple and very effective.  You may say you can do the same with Smartboards, however we all know that technology can go wrong and normally does when you need it most.  The simple approach of writing out what you need and then having the ability to erase it easily is brilliant.  Another advantage of using Whiteboards, is that they are "green".  They are better than using paper or Smartboards, making it a perfect, cost effective, solution.  Finally Whiteboards work perfectly alongside projectors.  You are able to view your presentation on screen, whilst also having the ability to use your Whiteboard pens to point out key information.
The first Whiteboards were very expensive to get hold of, however it was the perfect replacement for the Chalkboard.  Not only were they expensive, they were a nightmare to keep clean, they left behind some of the ink, which resulted in them having a short life-span.  The progress that has been made for Whiteboards is amazing, ironically whiteboards are available in colours other than white.  As well as this, if anybody has seen the episode of Dragon's Den, whereby the Magic Whiteboard was pitched across to the Dragons, you will realise how fantastic they are.  They are re-usable, mobile and easy to use – Perfect for companies that don't quite have enough room or need for a permanent Whiteboard, as well as those that are always on the move.  I myself have used one, sticking it to the floor of all places!
Here at The Workplace Depot, we thrive on standing by our moto "everything for the workplace".  With this in mind we offer a range of Whiteboards and accessories; including Revolving Whiteboards and Pivotal Mobile Whiteboards to ensure you have exactly what you need to present in your meetings.
---
Posted in News