The Workplace Depot are very proud to announce we can now carry the #MiB logos on our safety steps- and that's not Made in Bingham.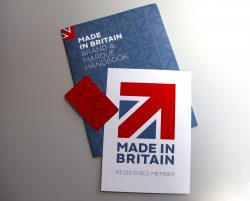 With a new month comes a new avenue to explore, and our newest venture is a new membership with Made in Britain. We are delighted to have recently received our Made In Britain membership pack here at our head office.
Made In Britain is an organisation that works to bring together the British Manufacturing community, and form positive business relationships between them. Our safety steps seemed like the perfect first step to getting involved in this fantastic opportunity.
We have always focussed on making sure our safety steps are from a British Manufacturer. Our continuously growing journey with safety steps originally began with sourcing units from British Manufacturers. This concept then evolved to making our own safety steps in our on site factory.
Opening our factory did more than improve safety step sales. We created new career opportunities, made our manufacturing process more efficient, and introduced customers to customising their products.
The beauty of in house manufacturing is the opportunity to personally cater to our customers. We go a step further than offering a variety of colours- we work with our customers to suit their requirements, by creating bespoke units.
There's a lot of things we're proud of at The Workplace Depot, and being able to add Made in Britain's logo to our steps is a new addition to the list.
---
Posted in News, Made in Britain