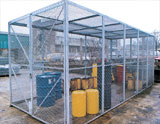 Our security cages are a little reminiscent of what you might find at the 'Guantanamo Bay' detention camp although they are not designed to have quite such a high level of security! The most popular use of our cages is for the safe housing of cylinders and chemicals. Gas cylinders containing inflammable gas are legally required to be kept in well-ventilated areas, preferably outdoors, and on a flat, dry surface. They also have to be kept separate to areas with other uses and stored away from places that are vulnerable to impact hazard. (see Health and Safety Executive website for more details). As a consequence of these safety issues, the security cages are the perfect place to keep gas cylinders.
Where are Cylinder Cages used?
Businesses or organisations that use a lot of gas cylinders include hospitals, manufacturing companies (especially welding and engineering), petrol stations, DIY stores, Pubs, laboratories and caravan parks. Cages containing gas cylinders are a common site in all of these locations and as well as the safety aspects they do need to be secure from theft.

Less common uses of the cages include housing maintenance equipment (see picture), recycling bins, chemicals and valuable outdoor equipment which doesn't need to be shielded from the weather. They have also been used by people for securing bikes and dogs although for this type of use you will need a roof; this can be supplied with most models. For some purposes you may want a raised base – this can be made from either a steel pallet or mesh. The cages can also be made mobile by adding 4 or 6 castors, two of which will have brakes.
Ease of Assembly (video)
The cages are extremely easy to assemble – there's no point in describing it when you can look at our short video – Cylinder Security Cage Assembly. Although not shown in the video, note that the cage can be ground or wall bolted though holes in the frame.
Standard British-made Cylinder Cages
The standard cylinder cage is a hot dip galvanised, all steel construction in 50 x 50 mm, 10 gauge welded mesh. You can also order a steel pallet base with a 500kg capacity and 150mm high. Although there are three standard sizes the modular construction makes this size and construction highly flexible and the door configuration can also adapted to your requirements.
Bespoke cages
We are able to supply bespoke cages – we manufacture them at our Leicester plant so please call us if you have a specific design and size in mind. You can contact our expert team on 0800 012 6777.
---
Posted in News, Product Updates